Posted by Ian Torchia on Nov 6th 2020
We have entered November, the month of transition for skiers; of gross, wet, cold rollerskiing, where 2 inches of snow and ice on the roads means many switched-to-bounding workouts, of choppy golf course rock skiing, where erg workouts become commonplace after avoiding the dreaded machine for months, and of general anticipation and anxiety about the upcoming race season. If I wasn't a skier, I would spend November (and April) in the desert escaping the transition of winter and soaking up the sun and mountain biking. It can be a tough time, but it can also be a time to hunker down and come out the other side into the race season stronger and more mentally focused than ever. At my alma mater Northern Michigan University, we had one last celebratory bash on Halloween and then had a no-drinking locked-in mentality throughout the winter until the NCAA Championships. Thus, Halloween signifies the last push of training until the race season and a time to make finishing touches to your fitness and technique, as well as mentally prepare yourself for the competitions ahead. I will never forget the focus Kyle Bratrud brought to this period his senior year at NMU during my freshman year. He was a man on a mission doing all the little things right and doing what he knew would make him best prepared for racing. It paid off at US Nationals with a 50-second win in the 15k freestyle after his best finish before was in the mid-20s. I hope to channel this same focus this year during November to come into the December World Cup races firing on all cylinders.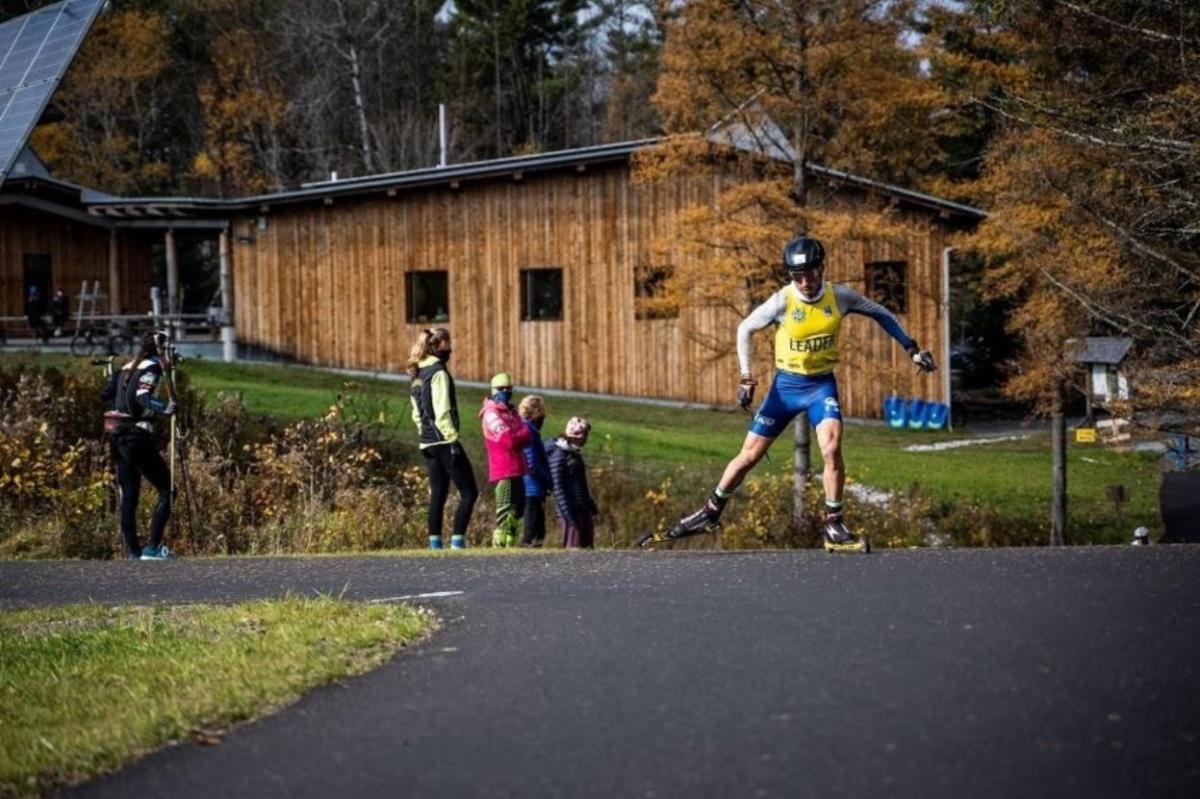 A recent rollerski race in Craftsbury.
I head out to Lillehammer, Norway on November 28th to race the 30k skiathlon a week later and then to Davos, Switzerland to race a 15k freestyle a week after Lillehammer. Entering Norway requires a special invitation from the race committee (through the government) and a negative COVID test 72 hours before departure. We will also be tested when we arrive to the race venue. We still have yet to receive an invitation from Switzerland and I personally am doubtful about the possibility of racing in Central Europe as the virus has been exploding there recently. The uncertainty means I could be in Europe for a couple weeks or a couple months and as an unfunded athlete due to not being on the National team, I have collaborated with my sponsors, my hometown ski club, and Out There nordic shop to create an online auction to help offset the costs of traveling and racing overseas. The link to the auction is not live yet as we are still putting together some amazing items so keep an eye out on my social media pages for it to drop! My ski sponsor Madshus has donated two pairs of the new Redline 3.0s, and my teammate Jessie Diggins has donated a personalized signed book as well as many other items. I will make sure the link to the auction is posted in SkiPost when it goes live as well. Thank you in advance for your support.
I hope everyone has a great November and let it snow!