Posted by Garrott Kuzzy on Jan 20th 2022
What is it like to travel to Europe right now? The good news is that the borders between the US and Europe are open … there are just a few hoops to jump through first. Our Lumi travelers have been making their way across the proverbial pond to report that the skiing has been well worth the extra efforts.
Vaccination Station
The first step is being vaccinated, and boosted. As of February 1, most countries in Europe are requiring that the most recent vaccination (2nd or 3rd dose) has been within the previous six months. At the moment, a 3x vaccinated traveler can enter Munich without having to take a Covid test. Germany is one of the few countries without a testing requirement to enter. Don't forget your CDC card. Europeans all have digital passes. Vaccine certificates are checked at every shop, restaurant, hotel and even to buy ski passes – kind of like getting carded. So far, a US CDC card seems to work virtually everywhere, but remember to bring it.
Testing, testing, …
For entry to Italy, France, Switzerland and others, a negative Covid test is required within a given time period before scheduled arrival. For most countries, an Antigen test is still sufficient, so long as it's been taken within 24 hours before arrival.
Piles of paperwork
Contact tracing is something that each country is implementing differently. As such, each country has a different passenger locator form that needs to be filled out before traveling. Airlines are checking these carefully before allowing passengers to board.
Masks
The N95 is the gold-standard in the US (way to go 3M ;) In Europe, the FFP2 is required in virtually all indoor spaces. Fortunately, supply chains have caught up and they are available in most grocery stores for under 1 Euro. You'll have to wear a mask during your whole flight, then pick up a pile of FFP2s when you land in Europe.
Passport, anyone?
With all the other requirements, don't forget the basics, like a passport that's valid for at least 6 months after your trip.
Travel Insurance
Given all of the uncertainty around missing a trip due to a positive test or having to quarantine while abroad, many more travelers are choosing to purchase trip insurance this winter. We have heard positive reports about TravelEx Travel Insurance from our guests. Plan ahead though, many companies require policies to be purchased at least 3 weeks before your trip or earlier.
Heading Home
One of the tricky requirements now, is that everyone traveling to the US is required to have a negative test result taken within one day of departure for the US. One day is slightly different than 24 hours – it basically means any time the day before your flight. For skiers flying home on Monday after a Sunday ski marathon, this requirement can be surprisingly tricky. The best way we've found to get around it is to bring a video self-test with you to Europe. You can take a test while being observed, then the test result is certified and sent to you within a couple of hours. This can be used as a negative result to travel back to the US.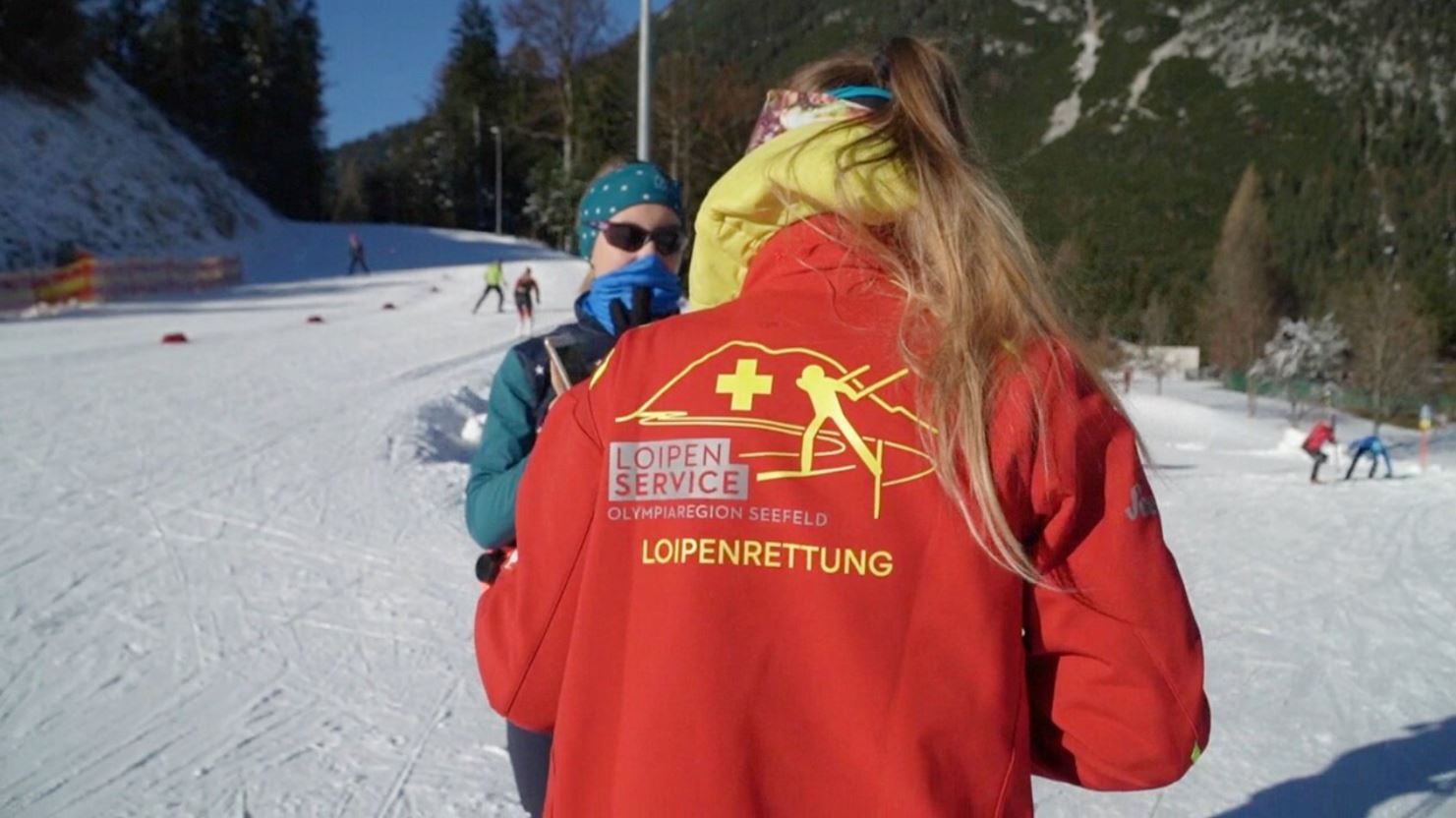 Checking Vaccine Status in Seefeld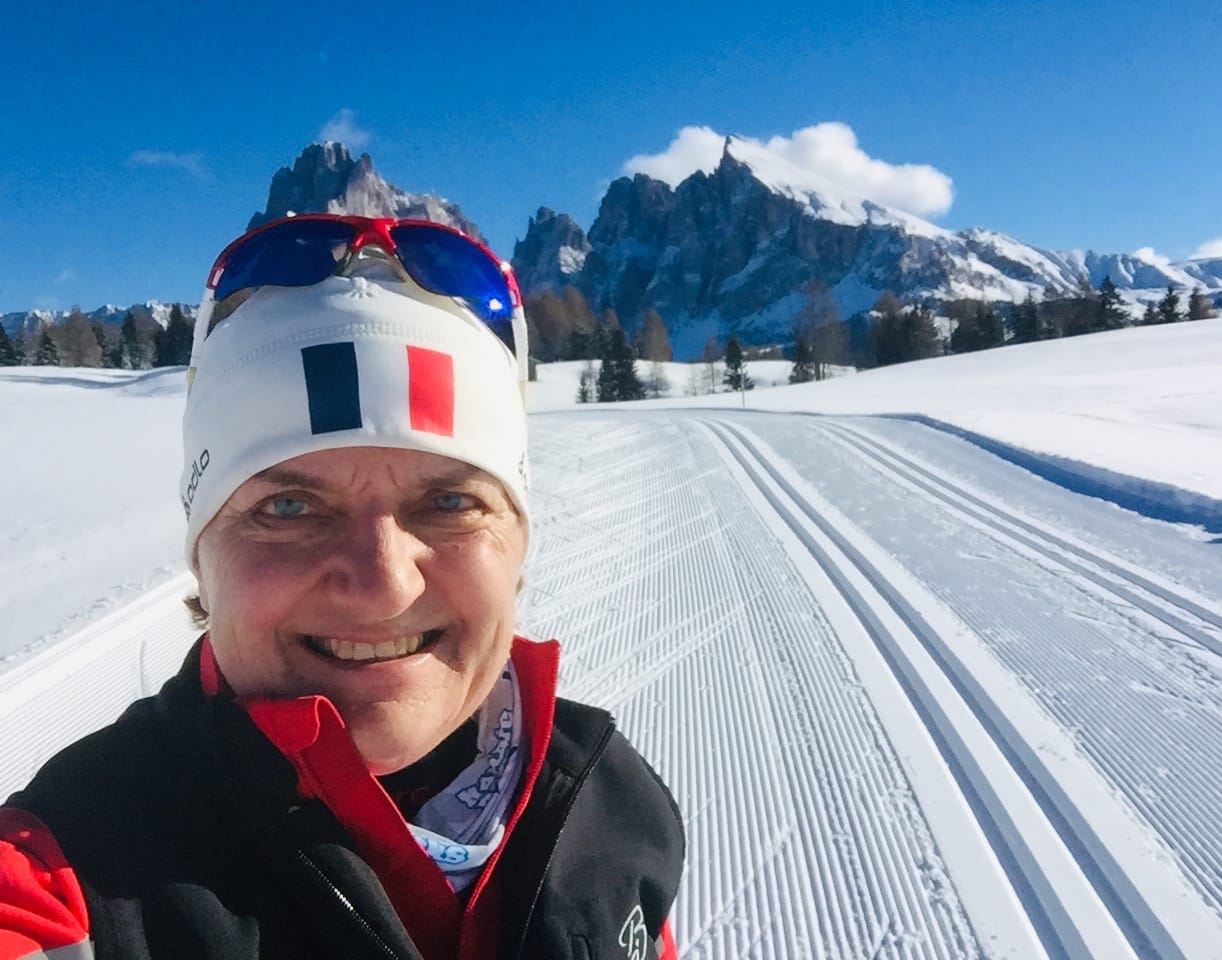 Lumi guest Lori in Seiser Alm
Lumi Practices
We are trying to help prevent the spread of Covid and following many of the practices used by the US Ski Team. When guests arrive, we provide Covid tests for everyone to test into our "bubble." We also provide hand sanitizer and masks to make sure everyone can maintain basic hygiene. Roommates stay the same throughout the trip. If someone were to get sick, our hotels all have protocols for quarantining. Most countries in Europe have shortened their quarantine times so that you can get home sooner afterwards. Before our guests travel, we walk them through all travel requirements, step-by-step, to make the process as easy and clear as possible.
The Reward
All of these steps are part of the process this winter. Fortunately, cross country skiing is one of the best activities to spend time outside with friends. Striding through the Dolomites or fresh tracks in Seefeld make it all worthwhile. Lumi guest Lori sent this photo from her trip in Seiser Alm last week. Even if you can't make it to Europe this winter, hopefully you can still spend lots of time outside on the trail.
Additional Resources
If you are planning to travel internationally, your airline is an excellent resource for the requirements in your destination. The best resource I have found so far for navigating travel requirements by specific country is Sherpa. You can enter your departure country, connecting countries, destination country, your passport country, dates and vaccination status. It will then filter your results to tell you the most current requirements for your travels.
Hopefully this helps as you plan your travels. We'd love to host you on a Lumi Experiences trip soon! … well, in 2023 at least. All of our winter 2022 trips are already sold out. Book before March 31 and save $300 on all 2023 trips and the 2022 Factory Tour Trip to Fischer & Salomon in Austria and Slovenia over Labor Day, where you can ski on the Dachstein Glacier and in the Planica Ski Tunnel.
See you on the trail soon!
Garrott Kuzzy
Founder & Olympian
Cross Country Ski Vacations