Posted by Garrott Kuzzy on Aug 25th 2020
Traveling Back
With international travel and racing on hold, we are reaching back 10 years into the archives to share this 2010 update from Ski Post travel commentator, Garrott Kuzzy. He currently runs Lumi Experiences Cross Country Ski Vacations. Lumi recently launched trips to the 2021 Kangaroo Hoppet in Australia and Merino Muster in New Zealand. Check lumiexperiences.com out for more info.
(Kangaroo Sunset at Sunset in Mt. Beauty)
--
August 26, 2010
Winter greetings from snowy Falls Creek, Australia-home of the Kangaroo Hoppet Worldloppet Ski Marathon. Less than a week into my first trip to the Southern Hemisphere, I am beginning to settle into life Down Under at Australia's highest ski Resort: Falls Creek.
(Falls Creek Snow)
(Garrott getting ready for the Hoppett)
To say that things in Australia are "backwards" may be a little harsh; perhaps "upside-down" might be a better description. Why, for example, is the resort town atop the mountain where I am staying called Falls Creek, while the village in the valley below is called Mount Beauty? I knew that water drains counter-clockwise Down Under, but I had no idea that light switches get flipped down to turn on. Always. My favorite example though, is that Australia gets snow in the middle of our summer-and that's the real reason why I am here.
My adventure started a month ago with an invitation from Australian National Team coach, Finn Marsland, to join the Aussie Team for their National Championships and help improve the FIS points at the races. I get the impression that he was looking for skiers with better points than me, but fortunately for me, I was one of the few international athletes to take him up on the invitation!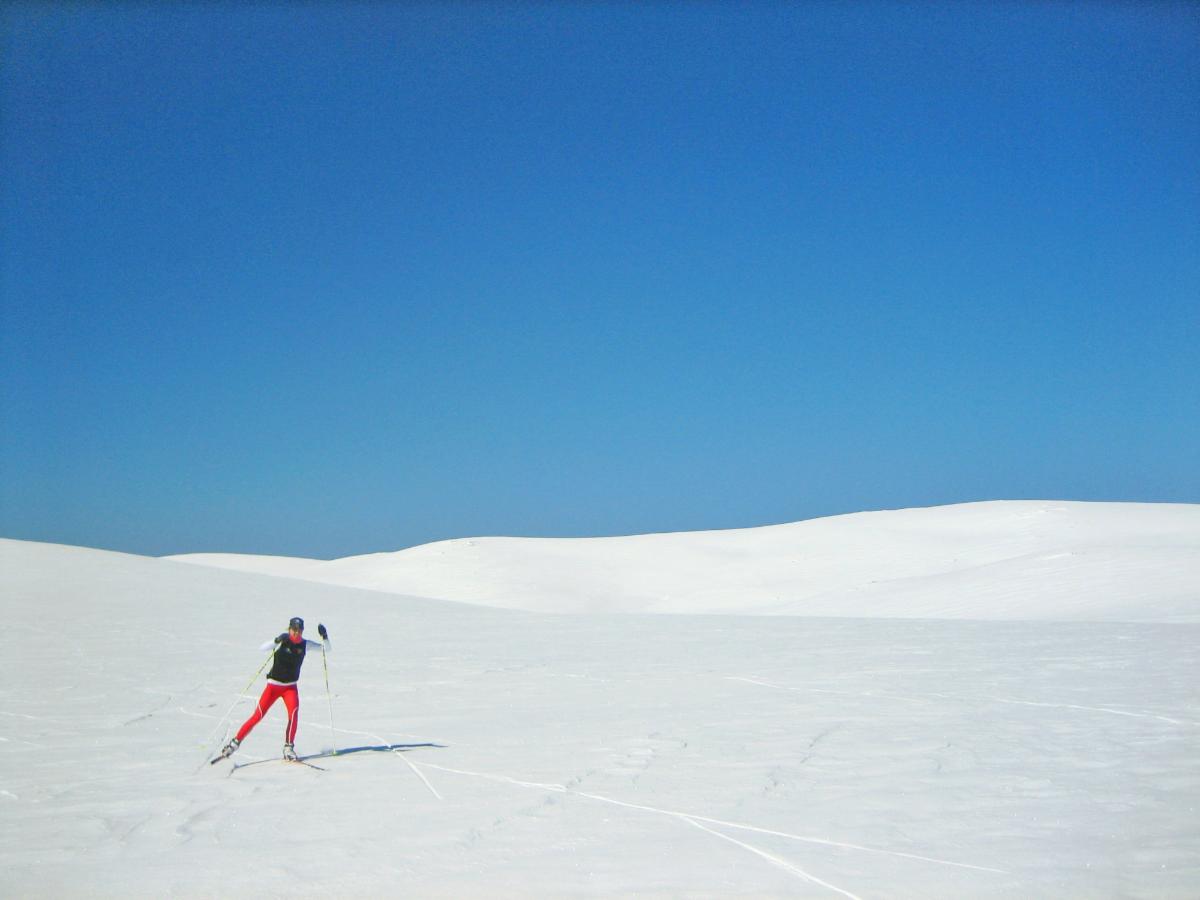 (Crust Skiing in Falls Creek)
Travel to Australia was much easier than expected. During the 15 hour flight, I caught up on all the latest new releases, including a disappointing Avatar. Upon arrival, the bus ride from Mt Beauty up to Falls Creek was spectacular. The bus climbed on the left side of the road through an exotic forest of gum trees-second tallest trees in the world, only to the California Redwoods. Beyond the gum tree forest, the view extended to the Kiewa Valley, one of Australia's famous wine regions. The surroundings were so surreal, I almost expected to see blue people to come flying out of the clouds. Instead, we were the ones who drove into the clouds and into a big snowstorm.
It's been a week since I arrived and the snow is still falling. Be careful what you wish for. I came to Australia looking for snow. It's fallen everyday so far and the forecast is for more snow this week-40cm in the next two days! That should make great conditions for the Hoppet next week. Stay tuned!
Check back in next week for Garrott's report for the 2010 Kangaroo Hoppet. --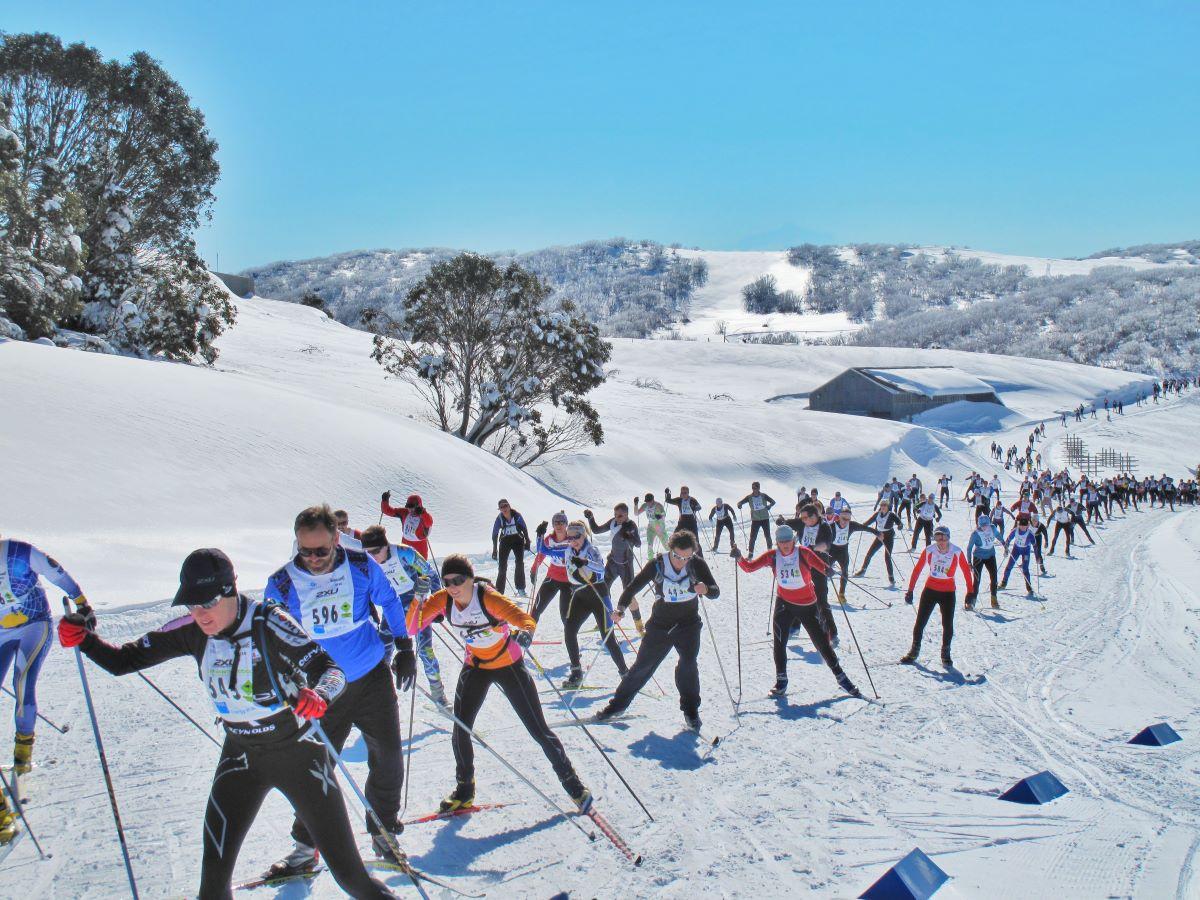 (Kangaroo Hoppet)
Have you ever dreamed of skiing a Worldloppet in Australia, New Zealand or Argentina? This is your chance!! This year, the races are all offering virtual events that you can join from anywhere:
Kangaroo Hoppet in Australia- sign up here for $10 AUD. Open until August 23.
Ushuaia Loppet in Argentina- sign up here for $750 ARS ($10 USD). Open until August 30.
Merino Muster in New Zealand-sign up herefor $20 NZD. Open until September 4.
If skiing the race in person (and collecting a Worldloppet Passport stamp!) is more your style, check out Lumi Experiences to see the trips to the 2021 Kangaroo Hoppet and Merino Muster.