Posted by Sophie Caldwell Hamilton on Mar 18th 2021
It's been a whirlwind of the last couple weeks. One one hand these have been two of the slowest weeks of my life, and on the other hand, a lot has changed. I had been planning to announce my retirement before the final World Cup races in the Engadin valley last weekend, but a false positive covid test put me into quarantine for two days. I had two negative tests after my positive test, so I'm confident I'm healthy, but I also understand that rules are rules and it was important to be extra careful in a situation like this. The bummer was that Simi and I weren't able to race what we were planning to have be the final races of our career or spend time with our teammates in our last week over here. I guess that just means we will have to go visit them at a camp this summer!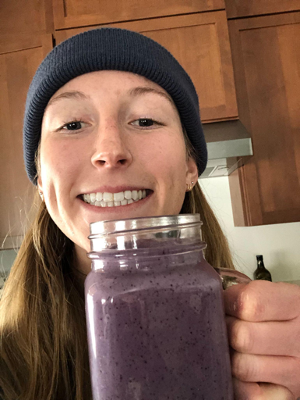 Photo: Julia Kern
I've felt a lot of emotions when thinking about the end of my career and some of them are happy and some of them are sad. I am going to miss the people, the travel, and the wonderful industries I worked with, but I can't wait to be in one place, have a home of my own, and find some new goals in the next phase of life. I plan to be a part of the ski world forever even if I'm no longer wearing a race bib and I can't wait to be a superfan for the next wave of U.S. skiers coming up through the ranks.
Warming up at World Champs in my new Bliz glasses!
It's been a pleasure working with the Enjoy Winter/Bliz team over the last couple years and I want to thank everyone for taking me in and supporting me. I hope to see more of the ski community we have back in the states now that I won't be traveling overseas as much, so I'll see you back home (one more day of quarantine!)!!!