Posted by Jacob Huseby on Sep 11th 2020
By Jacob Huseby
Ski Season 2021 is going to happen, and it's going to be different than what we are used to. US Ski and snowboard have canceled all national events, and countless citizen races have gone virtual. Despite this, the season poses an opportunity for unprecedented growth for the sport of cross-country skiing.
If the recent bike boom and national bicycle shortage are any indication, people are wanting to get outside while remaining safe, and socially distant. Further, the bikes that had the hardest time staying in stock were the entry level to intermediate level bikes, leaving only the high-tech eye candy in the now sparce showrooms. We are already seeing signs of interest from new skiers to get outside in a clear uptick in posts asking about buying gear online. Between the uptick in new skiers, and the absence of national events, your local loop may see more traffic than you're used to this season. With that in mind, here is my take on options for wearing a mask while skiing.
https://aip.scitation.org/doi/10.1063/5.0016018
To be clear: A cloth mask will not completely protect you from getting the virus, however it will severely reduce your capacity to spread the virus. Therefore for the masks to work, everyone needs to be responsible and wear a mask if they don't want to accidentally spread the virus to others, and yes you can spread the virus even if you are not presenting symptoms. The masks listed here are reusable cloth masks, to save as many disposable masks for healthcare professionals.
Mask 1. Homemade triple layer mask
Style: 2/5: Fit: 3/5 Safety: 4/5
This mask is great for going to the grocery store, but is perhaps too thick to be comfortable at ski practice.
Mask 2. Promotional college athletic mask
Style: 5/5 Fit: 2/5 Safety: 2/5
While the mask is thin, and the ear straps are convenient, and the drip is unrivaled.
Mask 3. Ski Buff
Style: 3/5 Fit: 5/5 Safety: 1/5
While the ski buff gives you different options for fit and styling, it offers minimal safety due to being thin and being stretched out. The safety can be described as "better than nothing".
Mask 4. Safety Beard
Style: questionable/5 fit: 6/5 Safety: 0/5
Speaking of "nothing" ... not wearing a face covering is socially irresponsible when you're around others. Do your part and help prevent the spread of the virus, please.
Mask 5. Enjoywinter.com mask
Style: 6/5 Fit: 5/5 Safety 3/5
This athletic mask is made by Borah Teamwear out of Wisconsin. It features a protective yet breathable fabric. The straps are my favorite part as you can tie them at different lengths. For roller skiing or biking I can wear it over a helmet easily. The rainbow colors are also eye catching and fun! This is my favorite mask, and not just because I work for enjoywinter.com....In case you were wondering, they are for sale on enjoywinter.com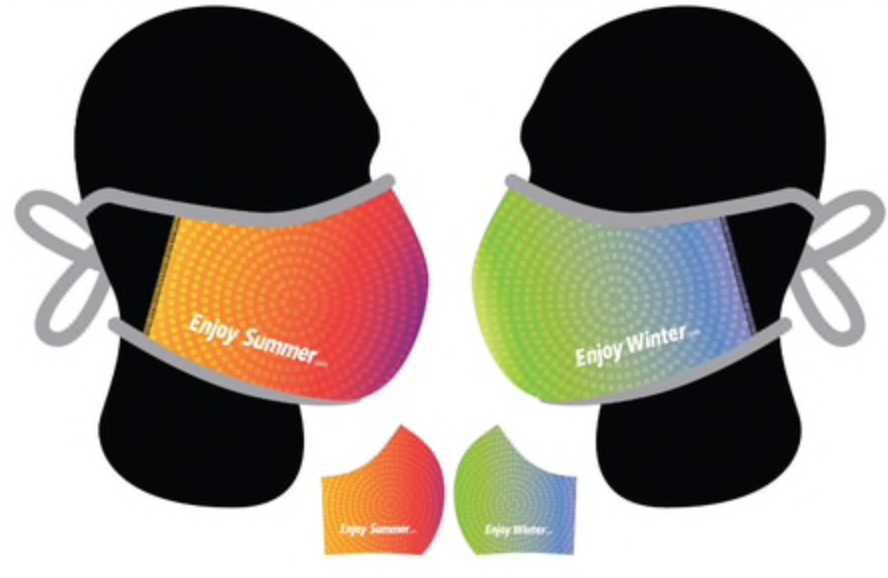 Enjoy!
Jacob Huseby
Enjoywinter.com