Posted by Hannah Rudd on Nov 4th 2021
Transitioning back onto snow after months of being away can be intimidating, awkward, and can leave you feeling like Bambi on ice. As the snow begins to fly around the country, I wanted to share a few things that I think about every year when getting back on skis for the first time. This topic is very fresh in my mind, as I was just up in Anchorage, Alaska where there were already some amazing, groomed trails just outside of town. I am also going to be heading to Canmore, Alberta in a few days for their Frozen Thunder, on-snow time trials. So, here's what I've been thinking about during my return to snow:
Transfer what you've learned on rollerskis to the snow- For those that have been rollerskiing during the fall or summer, its so important that you are actively thinking about all the technique improvements you've made on rollerskis and how to transfer them to snow. Transferring what you've been working on during the summer will not likely happen unless you are very intentional about it during the first few weeks back on snow. While rollerskiing this fall, I have been working to improve my weight transfer in my V2 technique. When I stepped onto snow for the first time last week in Alaska, I was very conscious in the way that I was skiing- especially when it came to my V2 technique. I didn't want to resort to the same old patterns and technique that I used last winter. Hence, I made sure to actually think about my V2 technique when I was skiing and worked on applying all of the small adjustments that I had learned on my rollerskis.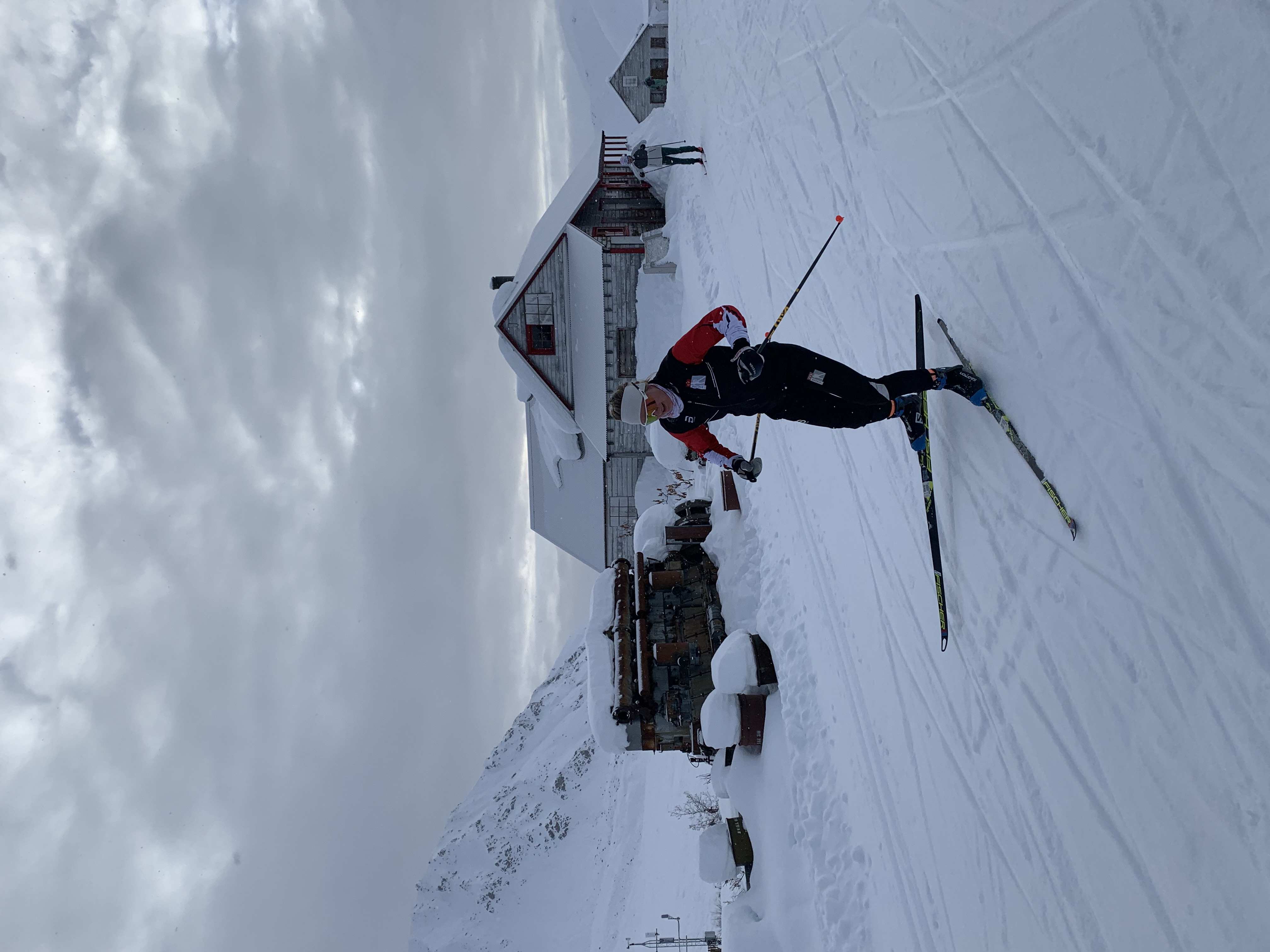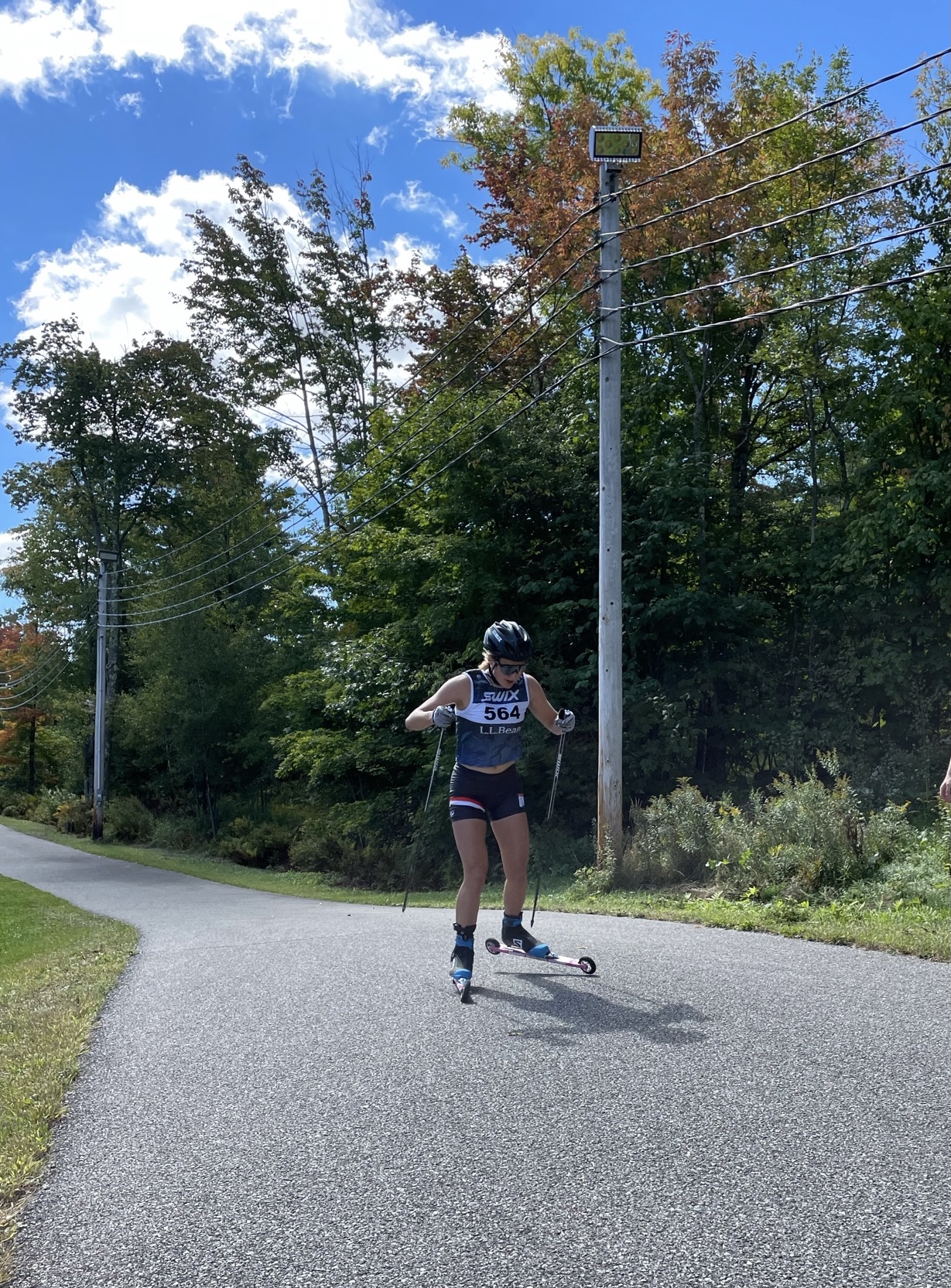 2) No-Pole Skiing- Legs only drills are not just for beginners. Every year when returning to snow, I find it extremely valuable to do some no-pole skiing. For classic, no pole skiing can help you remember how to have a powerful leg drive and a fast, snappy kick. It can also help you to regain trust in your skis without the use of a rollerski ratchet. For skate, no pole skiing can help with weight transfer and remembering how to glide confidently on snow.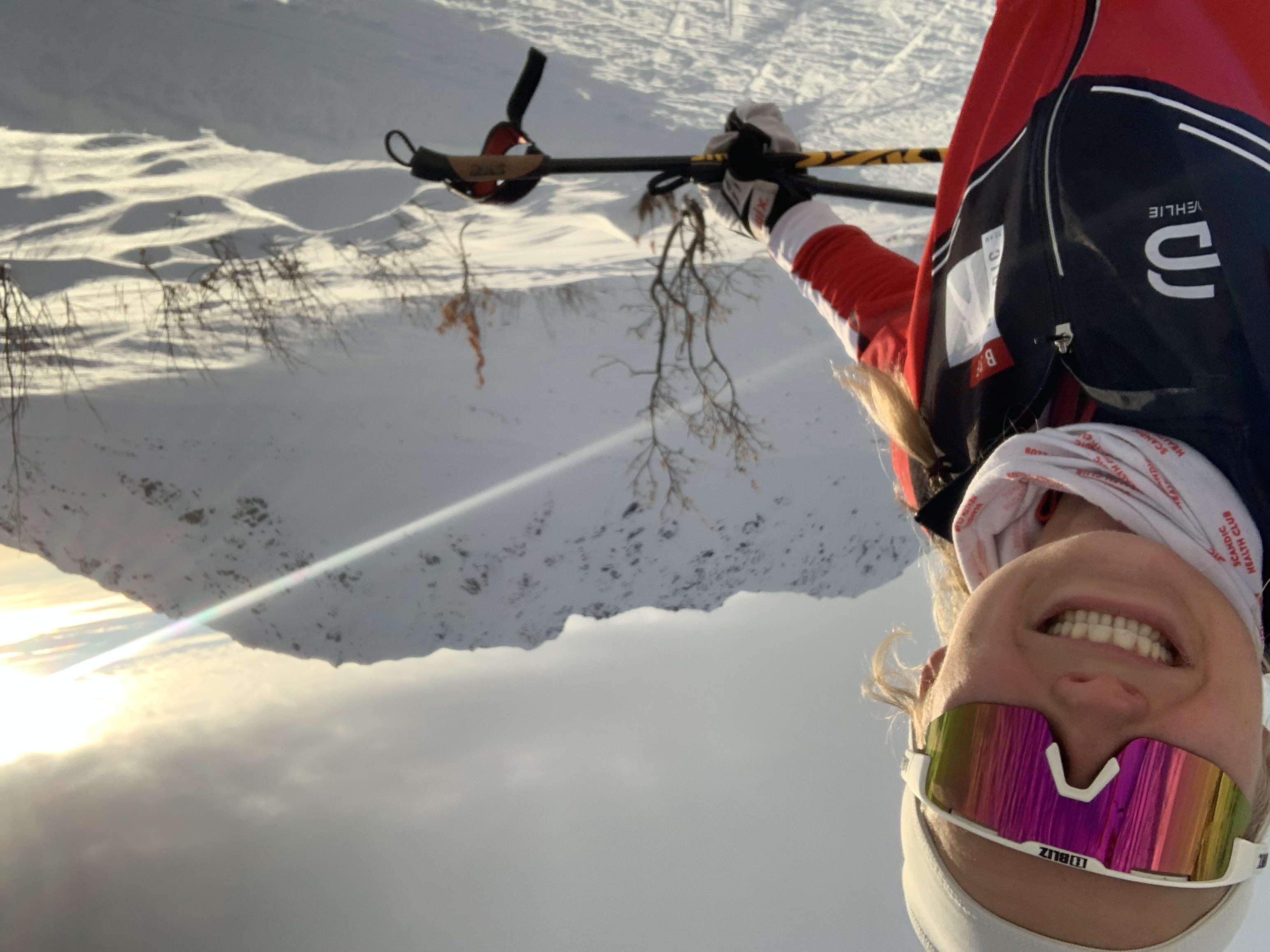 (Skiing at Hatcher Pass last week in Alaska)
3.
3.Take some Video!- The is one of the simplest ways to work on your technique when you first get on snow. Have someone take a video of you while skiing on different types of terrain and then review it afterwards. If you don't have someone to give you pointers on your form, there are plenty of resources online (youtube videos, Nordic Team solutions…).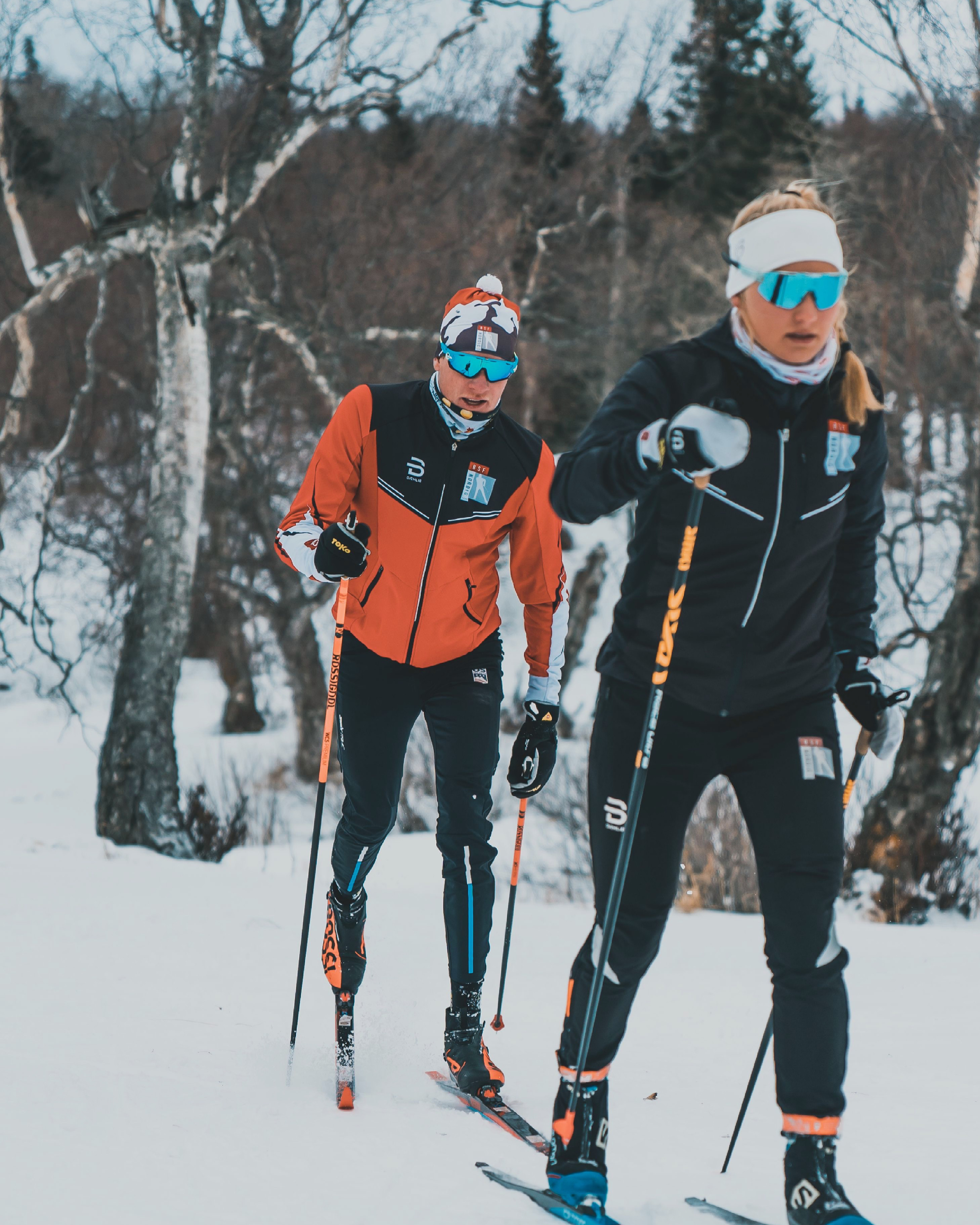 (My teammate Finn & I skiing together)
4. The V4 Skate drill- The V4 drill is one of my favorite exercises to do at the beginning of winter. For this drill, you are essentially doing a standard V2 technique- except you are poling twice on each side after every leg push. The sequence would be "glide, pole, pole, glide, pole pole", and so on. The V4 drill is great for balance, creating a tall, powerful body position, and for getting over your ski. This drill is hard, but always leaves me feeling more comfortable on my skis.
5. Have patience- When first getting back on snow, it can take a while for everything to come together again. Sometimes your shins or calves will hurt at the beginning of the winter because you're using slightly different muscles, and sometimes it can take a while to remember how to hit your kick pocket when classic skiing. Speaking for myself, it usually takes me a few weeks before I am feeling completely comfortable and confident on my skis again. Be patient with yourself and keep on at it!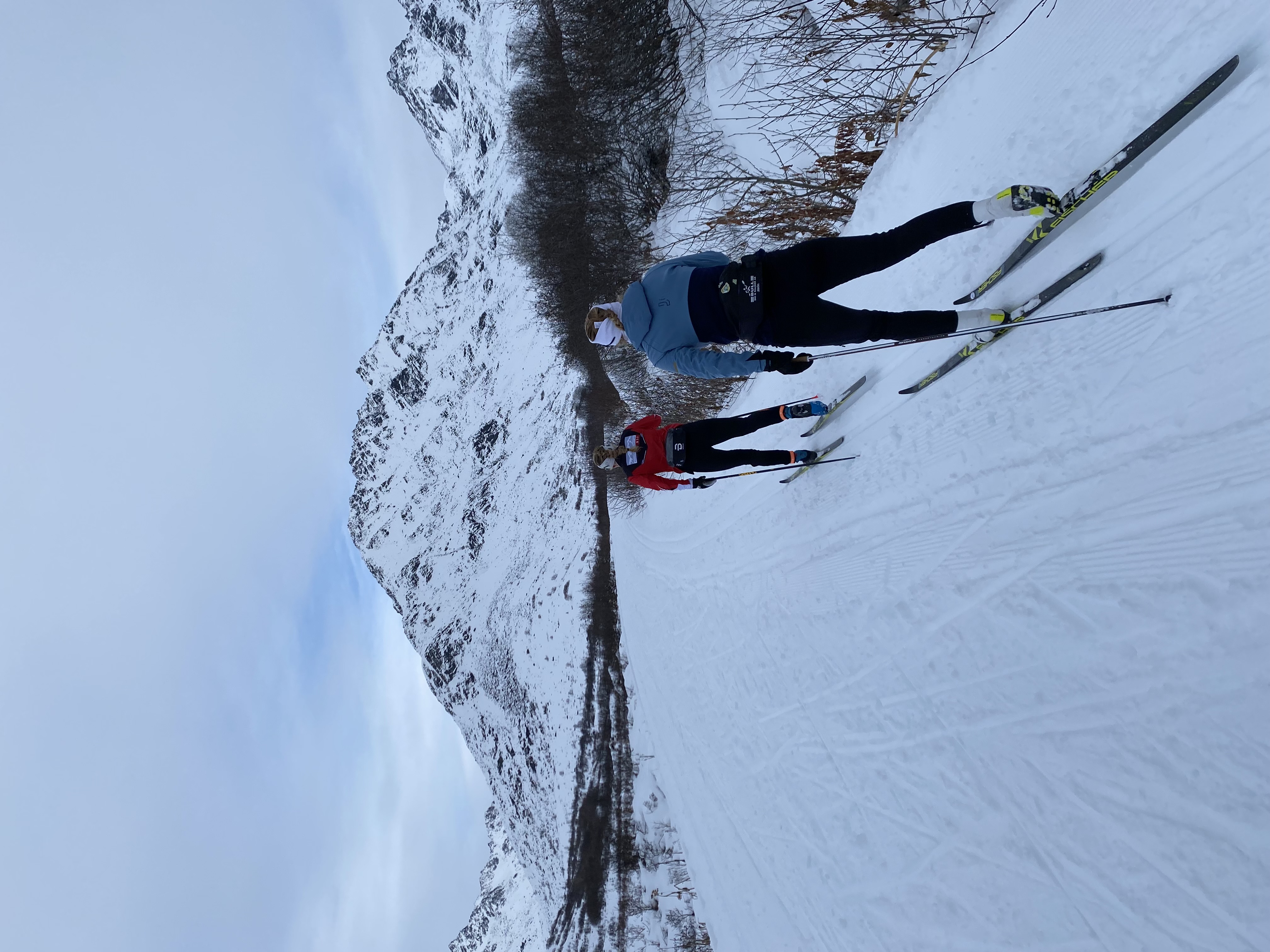 (Working on hitting our kick pockets)
Thanks for reading, and happy skiing!
-Hannah