Posted by Ian Torchia on Jul 2nd 2020
I arrived in Birkie-land on Tuesday afternoon after a weekend of racing at Theodore Wirth for the Minneapolis SuperTour. I settled into my former assistant coach Andy Keller's old room and was greeted warmly by his parents in their condo located right near the defunct Telemark Resort. I raced in the Birkie Classic Sprints the following morning at the Trailhead and had a lackluster performance finishing 2nd to last in the qualifier and 4th in my heat. I realized I hadn't taken a full day off in a long while and promptly did nothing but go to the expo and zero my skate skis the following day. On Friday, I tested skis with my old friend Fabien Stocek and found Kris Freeman's old skis with a TG1-2 Caldwell Sport grind to be running the best. On my afternoon run, I was so excited and filled with Birkie Fever I started shadowboxing down the road! It was time to do the race I had grown up watching and compete in the stacked field of former Olympic and World Championship medalists!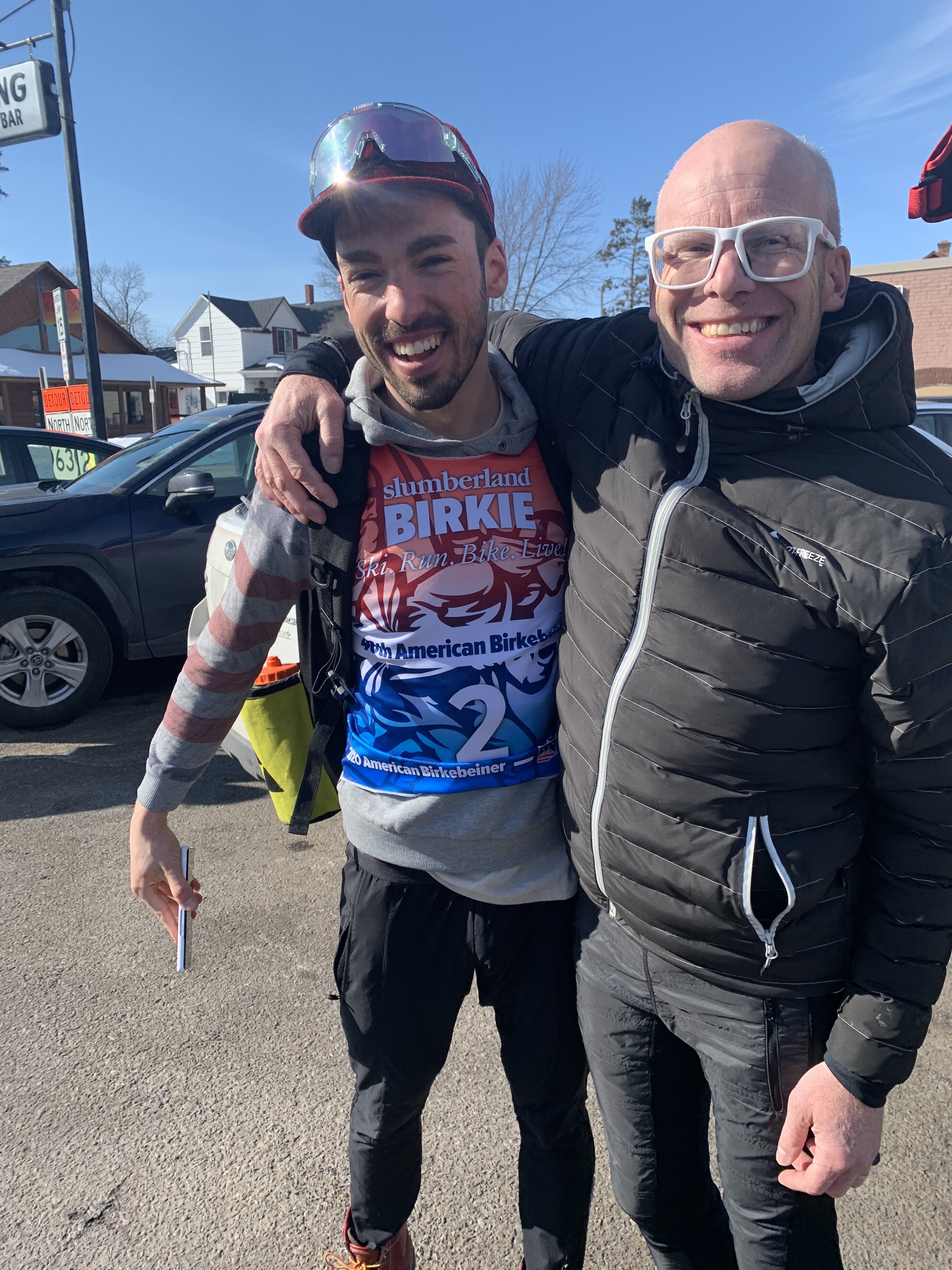 (Ian Torchia celebrates his victory with EnjoyWinter.com president Andy Gerlach)
I awoke at 6AM and had my usual breakfast of 2 bagels with jalepeno cream cheese along with some coffee. I had been eating more the week before as per my former coach Sten Fjeldheim's advice to get to the start line "a little fat"! Walking down to the start, I could feelthe energy of thousands of people and fed off it warming up. At 8:50am the gun(s) went off and the pack settled into a nice rhythm before the first sprint at 3k. I expected the pace to calm back down after the sprint but Niklas Dyrhaug from Norway and Robin Duvillard from France quickly started breaking up the pack with some savage accelerations. I hung on to the back of them for dear life and told myself that it would calm down after the high point at 13k. Sure enough, after 20-30 minutes of a super hot pace, Dyrhaug shuttled back and motioned for us to start cycling the lead up front so we could keep our small group of 7 away from potential chasers. I took a couple short pulls but nobody else wanted to lead so we all backed down the pace and over the next 20k, about 8 more racers, including my teammate Kyle Bratrud joined the pack. I was preoccupied from OO onward with some increasingly poignant leg cramps, despite drinking on every downhill and eating 3 gels! After an especially bad stretch, I dropped back in the pack and begged Kyle for another gel, which he willingly gave and saved me from totally locking up. With 10k to go, Robin Duvillard put in a hard surge up some hills and whittled the pack back down to 7 guys. After a chill pace for the last 25k and drinking as much as I could to stave off the cramps, getting back to hard racing was an unpleasant feeling. I came on the verge of another total-lockup cramp but luckily Andy Gerlach, our founder of this newsletter, was on the top of the hill with another feed that brought me back from the edge. As we entered Lake Hayward, I jockeyed for position in the pace line after hearing numerous warnings about not leading over the lake. After some unsuccessful attempts to get in line, I thought what the heck, and pulled up alongside Dyrhaug at the front of the pack and led across the mercifully windless lake with him. Turning the corner off the lake, the pace edged higher and higher until Dyrhaug launched into a full out sprint before the Birkie Bridge. I slotted into 3rd and hop V1-d up the bridge, while my legs started cramping big time. Fighting through the peg-leg cramp, I set my sights on Robin Duvillard in 2nd and bore down until I passed him right before the line! The last minute of racing was an absolute blur, but I will never forget the wall of noise that greets you as you crest the Birkie Bridge. The rest of the day was also a blur, from a press conference to getting beers with my college buddies to the life-saving 30 minute nap to celebrating at the Sawmill Saloon. One thing is for sure, I will be back to do the Birkie until I am old and grey!
I hope everyone had a great Birkie and hope to see you next year!