Posted by Jared Shumate on Jun 16th 2021
Kicking off an Olympic year brings a new level of excitement, expectations, and nerves to everything that happens during the training year. It is hard not to think about the Olympics and the prospect of making the Olympic team throughout the whole season, and it adds extra motivation to every training camp and training session throughout the summer.
After a fun few months of spring training at home, my teammates and I travelled to Planica, Slovenia to start our summer ski jumping training. The facilities in Planica are some of the nicest in the world and being able to start the jumping season there made for a really productive training camp. With the Olympic year in mind, I tried hard to make progress with every jump and every training session and now I have a good idea of what I need to improve throughout the rest of the season to put myself in contention for an Olympic team spot.
In addition to having a world-class ski jumping complex, the mountains around Planica are beautiful which makes cross country training even more enjoyable. During our training camp, one of my teammates had a birthday, and in true Nordic-dork fashion we celebrated his birthday with a 2+ hour roller ski climb to the top of a mountain pass in Italy. We were able to ski from our apartments in Slovenia into Italy, and then made the ascent to the top of Cella Nevea, an Italian pass that sits above a beautiful lake and at the base of a ski resort. Luckily this workout was just an easy distance ski, so we were able to talk on the ski and enjoy the views. Being able to train in beautiful locations is one of my favorite parts of being an athlete and something that I am very thankful to have the opportunity to do. Below is a picture of my teammates and I skiing up to Cella Nevea.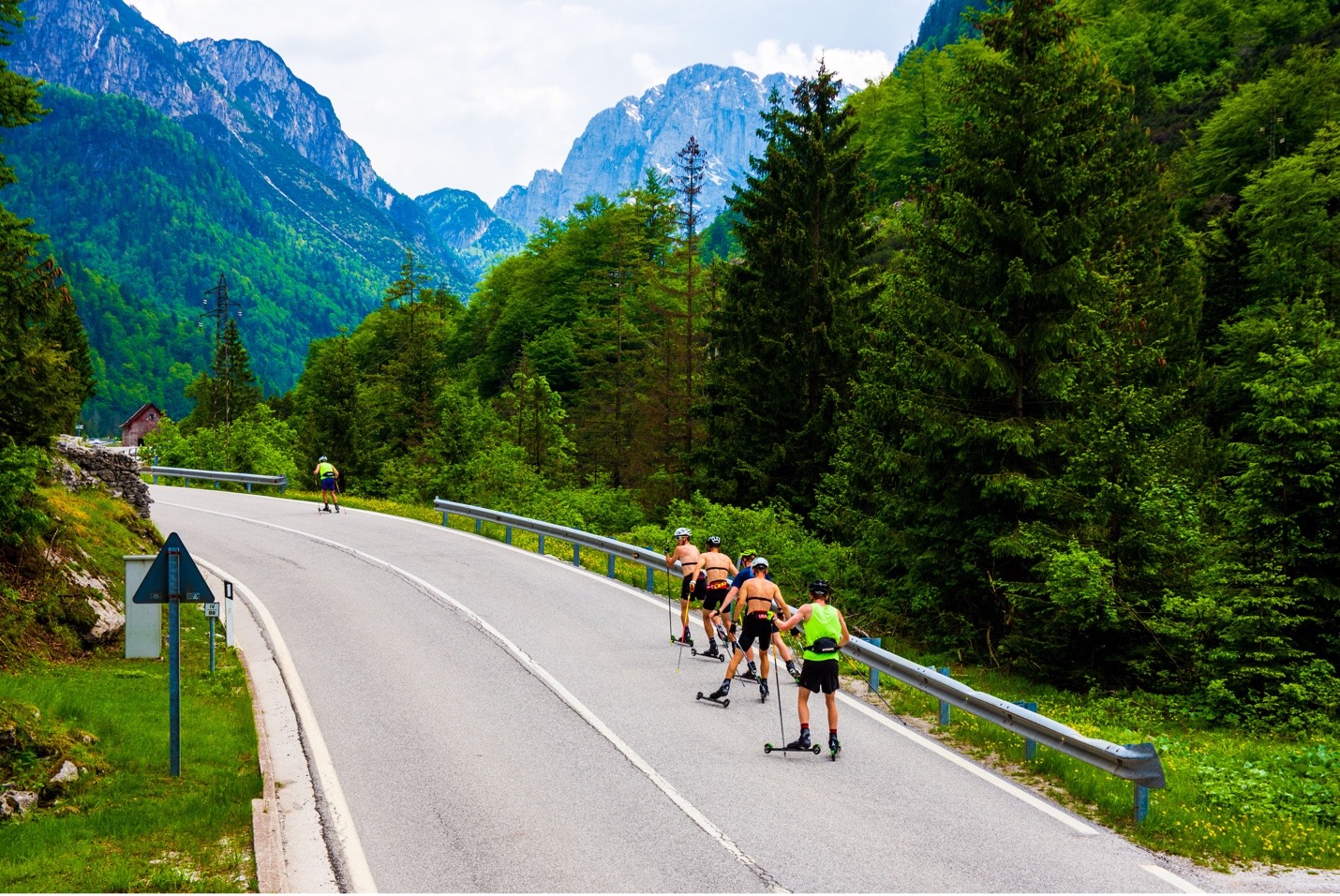 The ski up to Cella Nevea
In addition to being a great camp from a training perspective, this camp also was a reminder of our team culture. I have a relatively small team, just 8 athletes on our entire Men's national team, so we spend a lot of time training together with the same group. Although the 8 of us are vying for 4-5 Olympic team spots this season, we are still supportive of one another and enjoy being able to train and progress together. Naturally, we all want to beat each other (we're competitive athletes after all), but it's not as if everything we do is a competition. I think that having a strong, supportive team culture is vital for the success of the entire team and helps everyone improve. I'm confident that we are all pushing each other to get better, and I am excited to see how our motivation is reflected on the results sheet when we start to compete again! I will return to Park City soon and continue to train together at home for a few months and then it will be back to Europe in August for more training and a few Summer Grand Prix competitions (essentially summer World Cups)!
Stay healthy and enjoy the summer!