Posted by Garrott Kuzzy on Jan 21st 2021
"Sorry for the delay, Garrott. I've been overwhelmed by the schnapps."
Usually, a call like this would be cause for concern. But in this case, I knew the caller wasn't talking about alcoholism...it was Rudolf, owner of one of Austria's top brandy, or schnaps distilleries. The distillery is located in a centuries-old cellar in the village of Lienz in East Tyrol.
The region is known as Austria's Sonneneck or sunny corner. The fruit used for distilling the Edelbrand thrive in the region's sunshine, elevation and precipitation. That perfect trifecta also provides excellent conditions for Nordic skiing. Perhaps that is why Lienz and East Tyrol are home to Austria's Dolomitenlauf ski marathon--one of the original 10 events in the Worldloppet series.
In a normal winter, this would be Dolomitenlauf weekend--the start to the central European Worldloppet events--and I would be skiing with our Lumi Experiences guests in Lienz and neighboring Obertilliach. This winter, the Dolomitenlauf has been forced to cancel due to Covid-19 travel restrictions, but it offers me an opportunity to reflect on past events.
The Dolomitenlauf weekend kicks off on Friday night with a City Sprint through the cobbled old-town streets of Lienz. The night sprint has been held for decades, and began long before sprinting became a normal part of World Cup racing. With a BMX-style ramp start, jumps, drop-offs and a toilet-bowl drop 360° turn, the knock-out sprints are a fun way to kick off the weekend. Don't forget your ear-plugs. Spectators ringing basketball-size cowbells can sound louder than a NASCAR race.
Although the original Dolomitenlauf was held in Lienz, the event is now typically held in the high alpine village of Obertilliach. At around 2,000 participants, the 42km Dolomitenlauf is one of the smaller Worldloppet events. The loop course also means the finish is very close to the start. These aspects offer a very comfortable experience for participants. There are separate skate and classic races on Saturday and Sunday, as well as 21km "short" races, so skiers who prefer one style or shorter distances can all participate.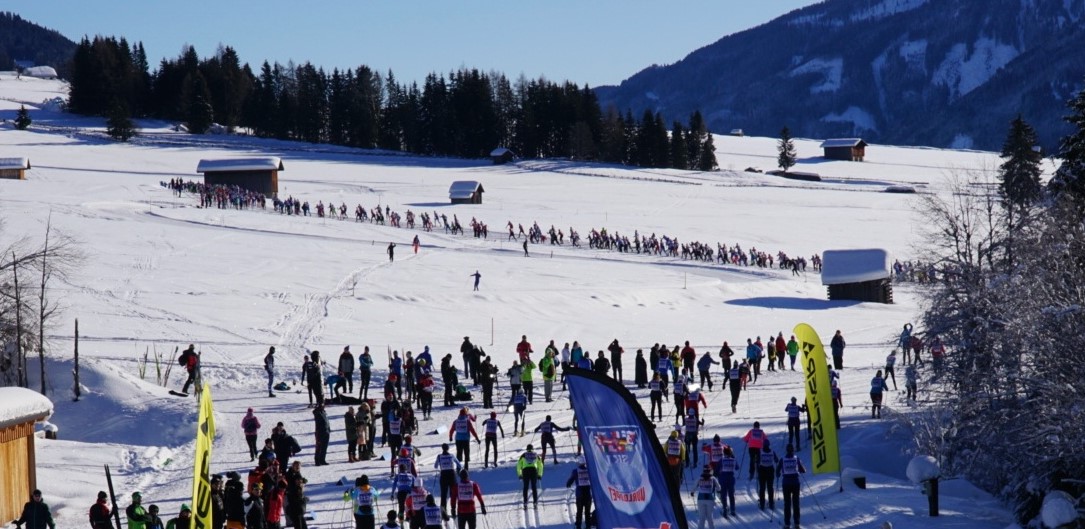 The course itself evolves, depending on conditions. The terrain typically rolls downhill, along the Gail stream, before heading over the stream and climbing back up the other side. Pine forests, mountain views and open fields dotted with huts for drying hay line the course. In fact, you may remember a scene from James Bond's Spectre, when an airplane explodes when it flies through a mountain hut. Yes, the course literally skis past where that scene was filmed.
Of course, you can't leave East Tyrol without sampling their world famous schnapps. The Lumi Experiences Dolomitenlauf weekend ends with a visit to Rudolf's schnapps cellar, where we learn more about the history and art of his distillery and raise a glass to the weekend. Prost!
Visit lumiexperiences.com to learn more about our Dolomitenlauf & Marcialonga Trip. The trip is already filling fast -- book before March 31 and save $300.