Posted by Annika Landis on Dec 15th 2022
Hello SkiPost!
Checking in from Sun Valley where we are gearing up for our second weekend of racing. We just wrapped up a whirlwind first week of racing in beautiful Silver Star, BC and the season is now well underway. With four races in five days and three more coming up this weekend, it feels a bit as if we have all been thrown off the deep end and into the fray (in a good way, of course). I came away from this first week of racing with a few takeaways on managing expectations and energy.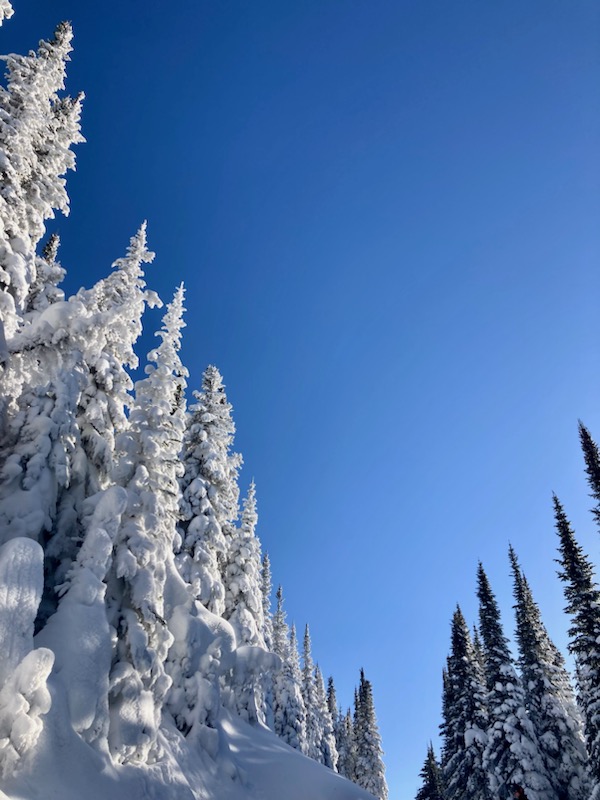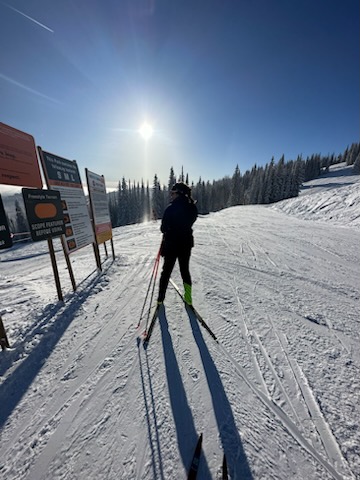 (The last race day treated us to a beautiful blue sky for a ski back home over the mountain after the classic 10k).
Expectation Management:
The first races of the season are always interesting because it is the first time since March that the entire domestic field, and in this case, the Canadians too, all come together. It's time to see what the last eight months of training has added up to. It is exciting to finally have the chance to go head to head with the competition and see how things stack up.
It is also important to have your personal goals in the back of your mind and try not to get too caught up in the excitement of the first races. I personally did not have the week that I had hoped for, I didn't qualify for the classic sprint heats, and I felt flat during the skate mass start. The second two races started to feel better but still not where I had envisioned myself being based on my summer training. I felt a bit down, and I had to remind myself that the season is long and there are many races yet to come. Not everyone comes out of the gate guns blazing at the first races and that's ok. I usually perform better later in the year, so I just need to give myself time to ski into the season.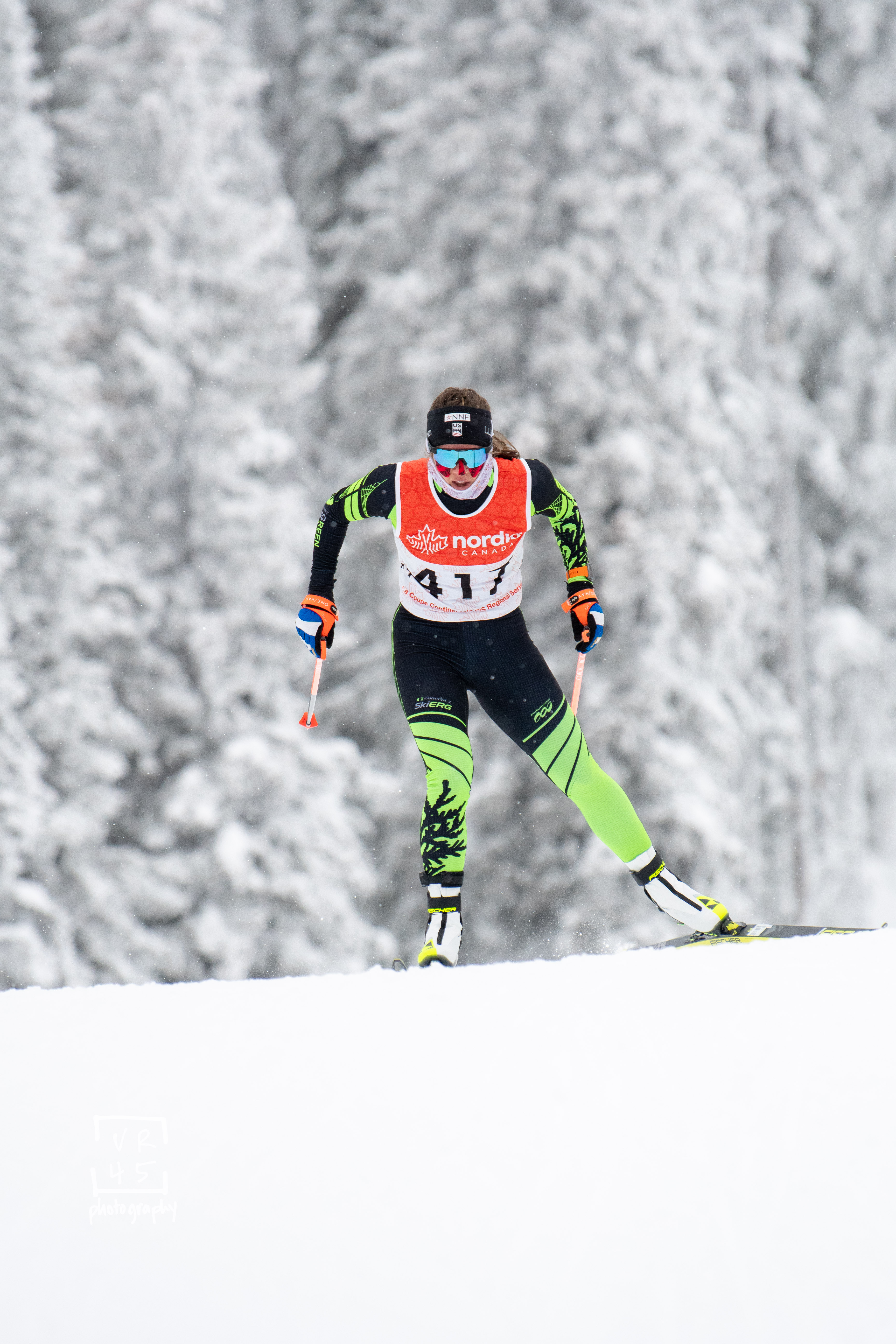 (Sneaking into the top-30 for heats in the Skate Sprint. Photo: Doug Stephen).
I also find it helpful to write out my goals for the season, and have intermediary goals for each weekend of racing. These include performance goals but also process goals, because results require consistent, dedicated focus. After the races were done last week, I looked back on the goals I had written down and could see where in the process I had done a good job, where I needed to improve, and what goals I had accomplished that were unrelated to results. This helped me see my first two races in a better light and come into the races here in Sun Valley with a more generous mindset and my expectations better framed.
Energy Management:
This first period of racing is a lot in a short period of time, and managing my energy has been really important for feeling good on the snow and off.Last week in Silver Star was really cold, with temperatures hovering around around 0 F. One of the challenges of training and racing in this temperature is making sure your core and muscles stay warm, not just for comfort but also for maintaining athletic performance. Cold muscles perform less efficiently than warm ones and it takes a lot more energy overall to keep your core warm. Figuring out how to be warm before, during and after racing was critical to maintaining good energy throughout the week and ensuring optimal ski performance.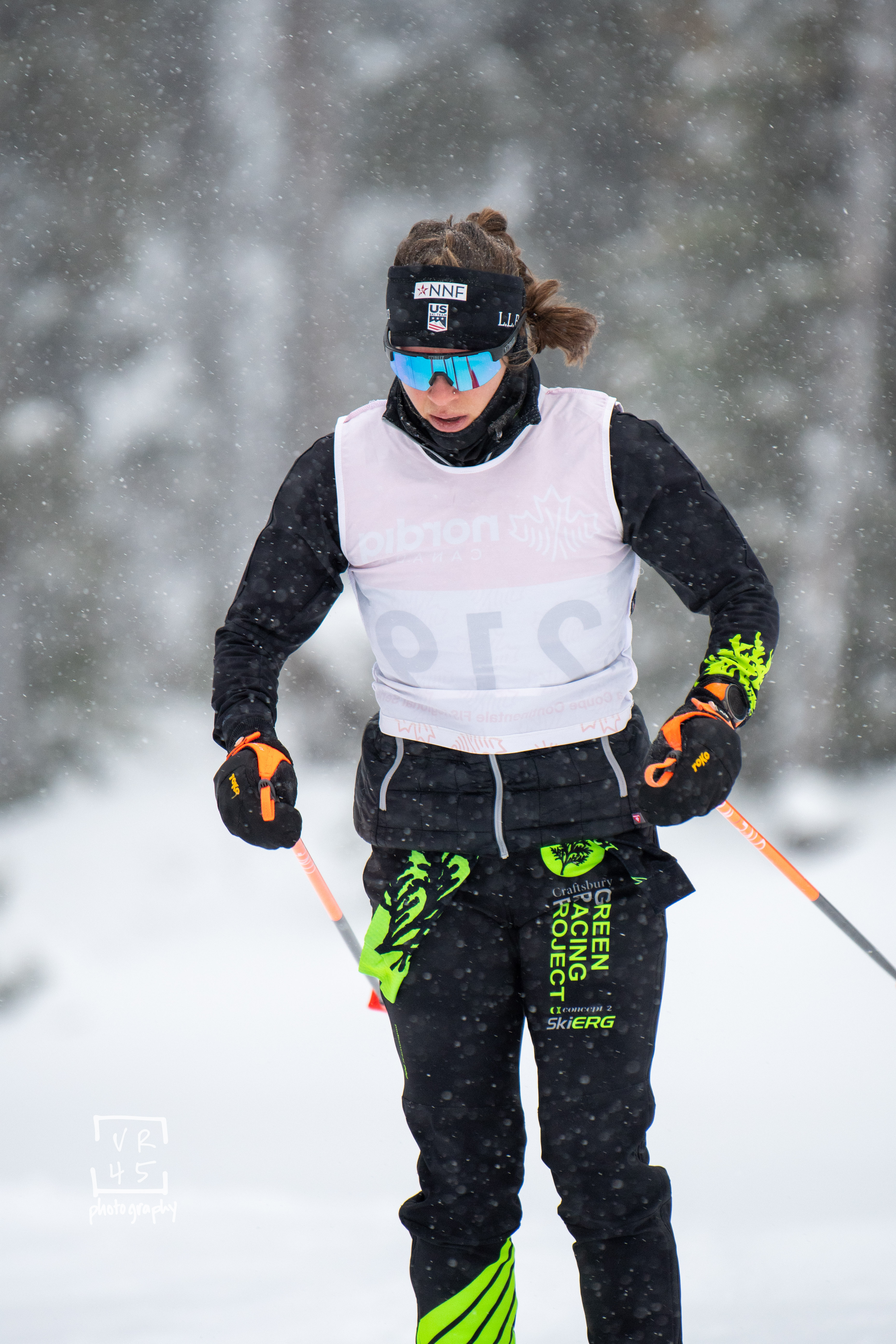 (Trying to stay warm before the race. When it is cold out, it is really important to make sure you have a really good warm-up. Photo: Doug Stephen).
Here is a look into a few things I do to manage a cold race day.
Pack Extra EVERYTHING: My feet especially are useless at staying warm so I have

a pair of socks for the drive to the venue, a dry pair with toe warmers and boot covers to wear for my warm up and racing, and a dry pair for afterwards. I have a similar strategy for gloves and base layers, essentially trying to make sure I am not wearing anything sweaty long enough for it to make me cold.

Warm Liquids: I always fill my waterbelt with warm/hot water (usually mixed with sports drink because warm water alone is not very appetizing). I also fill a thermos with tea and honey to sip before and after, which helps soothe any inflammation in my throat from breathing cold air.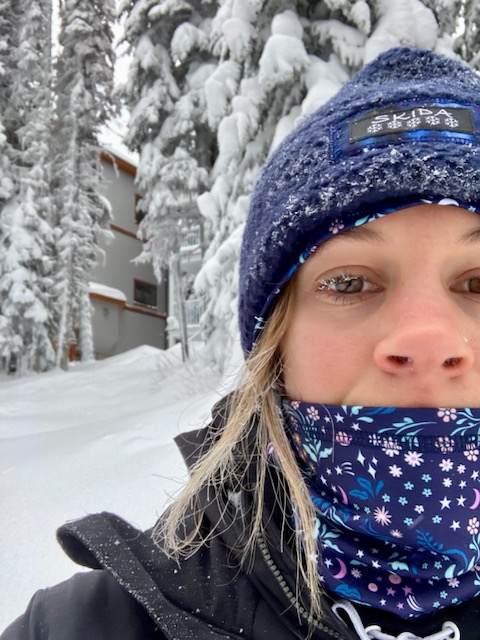 (Fully bundled up for an afternoon walk).
Staying warm and hydrated will go a long way towards keeping your energy high throughout the week and giving your body the best chance to recover well from the high stress load of seven difficult races at altitude. Luckily Sun Valley is a bit warmer and we will get to enjoy at least one bluebird race!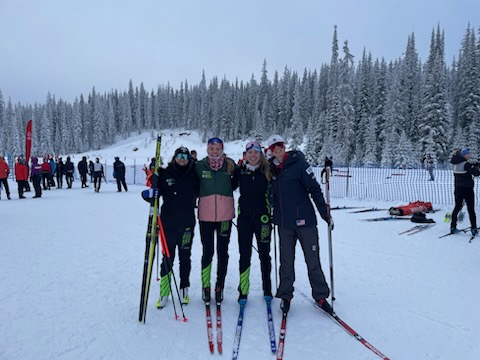 (All frozen smiles from the GRP ladies).