Posted by Amanda Kautzer on Jun 10th 2021
It all started during the *regional replacement for* US Nationals race series in Houghton, MI. Since it was Christmas break, all my housemates were gone, and I wasn't looking forward to spending a week in a creaky old house all alone. At the same time, my parents had a vacation scheduled, and they needed someone to look after our black lab Bo.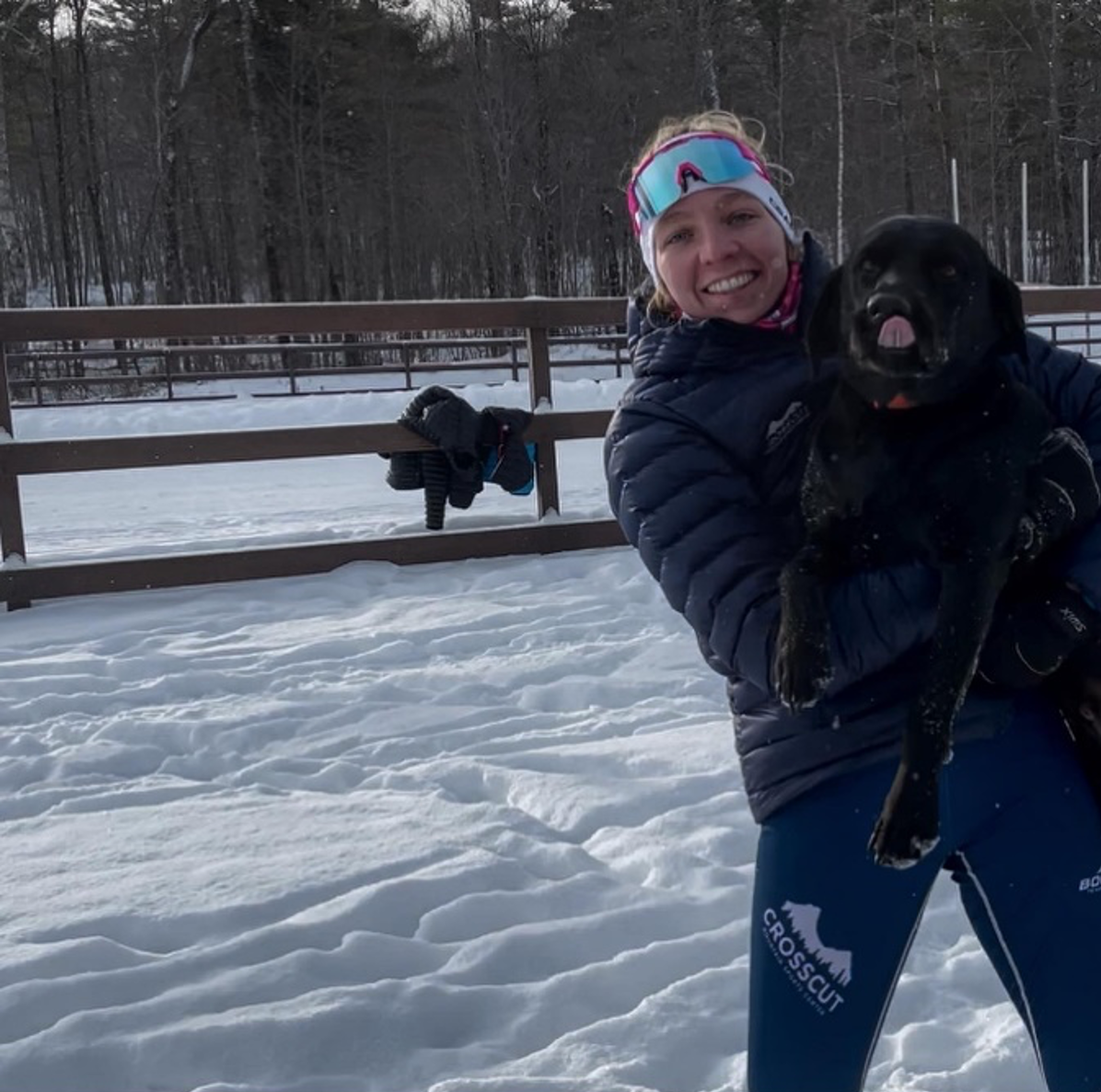 Bo and me after a race.
Bo is a three-year-old British lab, whose endurance capacity is surprisingly as high as his BMI. Since it was race week, my top priority for the week was recovery, not playing with Wiggles, as he is accurately nicknamed. Additionally, I wanted to make absolutely sure that he was tired enough to sleep until my alarm – a difficult task for a dog that is used to breakfast at 5am. So, to wear off energy, I started him in a training program. To start, we would play fetch, and not just a casual game of fetch – this was intense. If you have a dog that likes tennis balls, and have never heard of a Chuck-It, buy one now. It will save your shoulders.
When that wasn't enough, I had Bo pull me skijoring. Since he was extremely overweight at the time, the double workout was enough to get him tuckered out for the day.
When I finally had to bring him home, my parents were blown away by how much skinnier he looked after only 10 days! This realization sparked Mandy Camp. For about three weeks in February, and another few weeks in April, I got the joy of adventuring with Bo. At first, I was hesitant to do anything but run and Nordic ski with him, but after some training he became the perfect adventure buddy for any outdoor activity.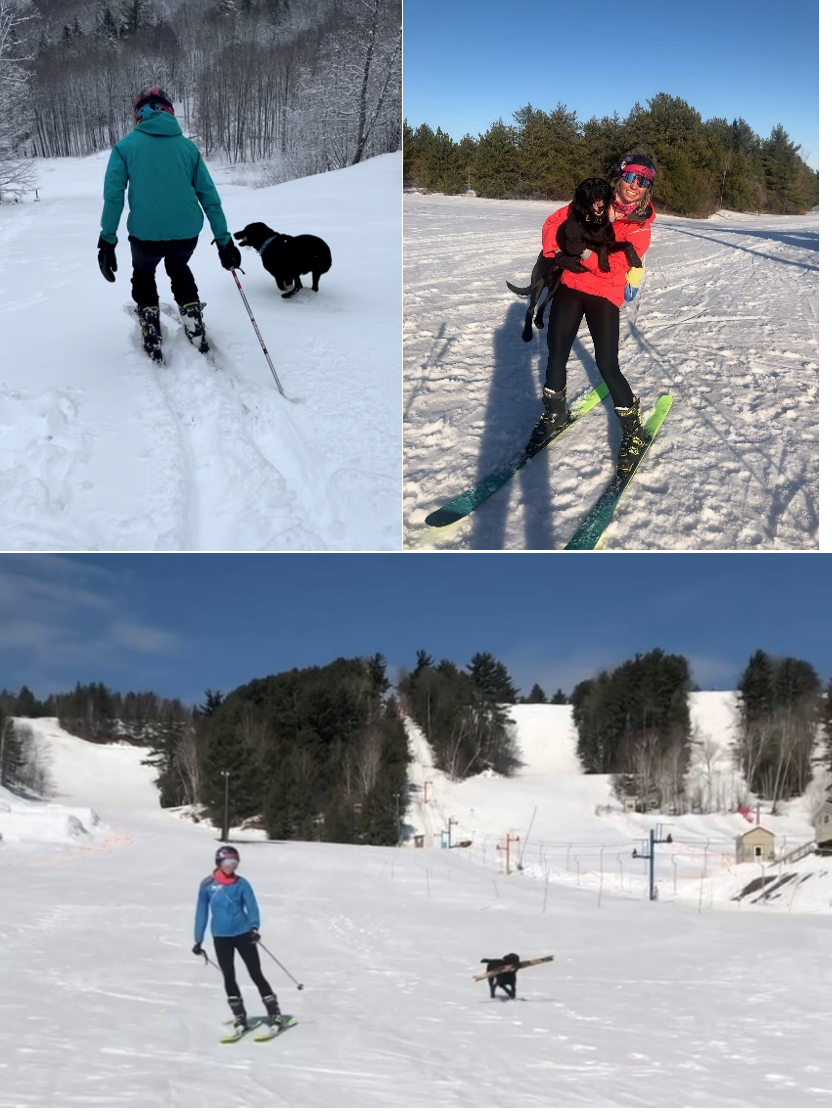 Spring laps at Mount Ripley and Marquette Mountain.
Bo quickly became the perfect companion for alpine skiing, back country snowshoe/snowboard/ski adventures, fat biking, and running. While pictures can't come close to doing it justice, he underwent a transformation from a chubby house dog, to a full blown adventure dog. He more than earned the nicknames Slush Pup (from spring skiing), Powder Pup (from skiing in the fluke late season storm), Wiggles and WiggleButt.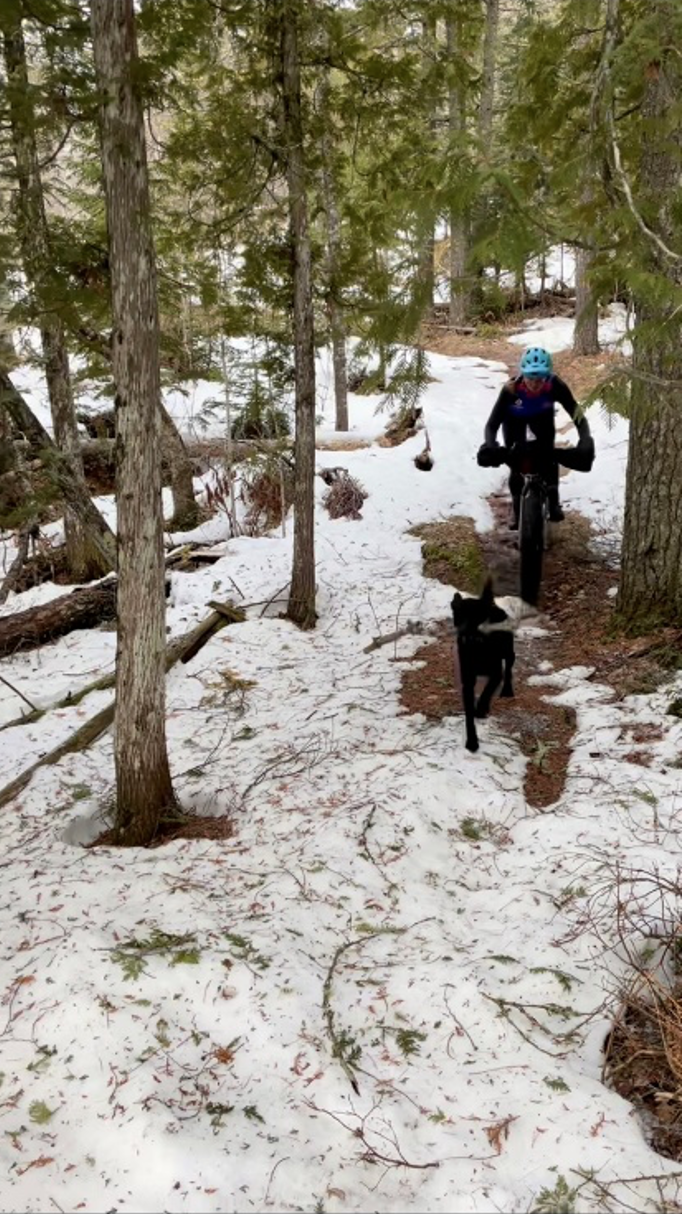 Even though our ride was nearly 20 miles, Bo refused to put down his stick.
He also became legendary with my friends for his passion for sticks. Often, when out on an adventure, he'd drop off behind us. After a few minutes we'd hear him catching up, and that's when you really had to watch out because he usually would be carrying a 3 to 8 foot long stick, and more often than not would take you out at the knees on the way back to the front of the group (and no, I'm not exaggerating the length of the sticks).