Posted by Annika Landis on Aug 11th 2022
Hello Ski Post -
I thought I would give you a short update on what I have been up to the past few weeks. As I do most summers, I blocked out a couple of weeks in July to head home to Hailey, Idaho to see my family and get in some good altitude training (hopefully beating the smoke).
A few days after I arrived home, I jumped into a local mountain running race that I have done a few times previously called the Standhope Ultra. I raced the 30k, as I was not quite feeling up to the 100-mile option. Because I had only been home for one full day before this race, I knew that I probably wouldn't be feeling my best, but I was excited to see if I could beat my time from last year, not to mention the scenery is always stunning.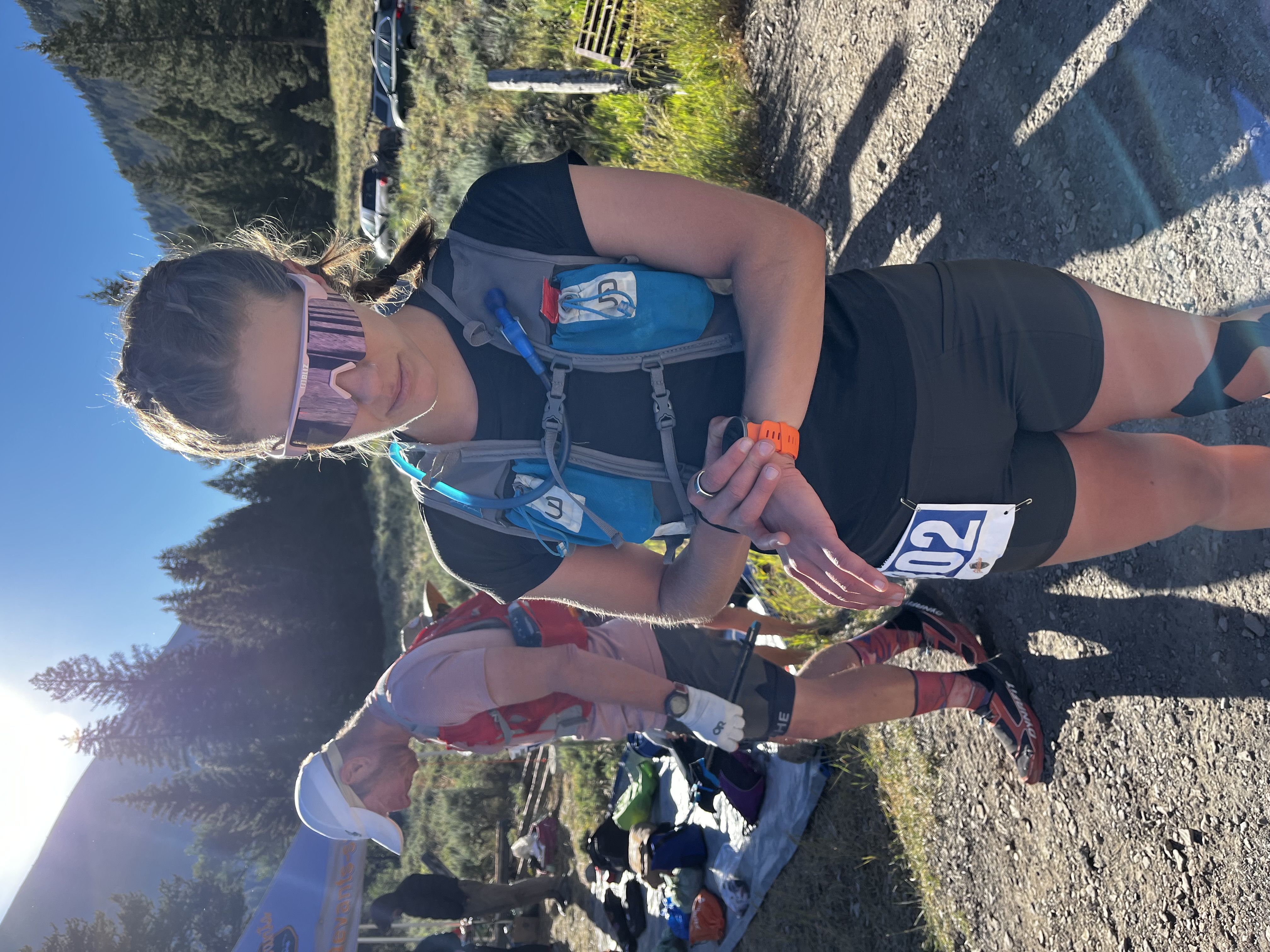 (At the startline of the Standhope 30k. It was only 35 degrees at the start!)
I could tell right from the start that I was a bit tired and I was quickly passed by the woman who would end up winning (and absolutely smashing the women's course record). The race starts climbing immediately, not abating for almost 2hrs, until eventually reaching an alpine pass at 11,000ft. I was holding on to a 3rd overall at the pass, although I had backed off full gas considerably, opting to stay closer to threshold and increase my chances of enjoying the race instead of totally burning out. I managed to hold my ground for the rest of the race, ending up as the 2nd woman and 3rd overall. I was a bit disappointed to not have even come close to setting a new PR, but it was a good reminder that the clock is not the only measure of a good day. I had a good run in some beautiful mountains on a gorgeous smoke-free day - what more can you ask for?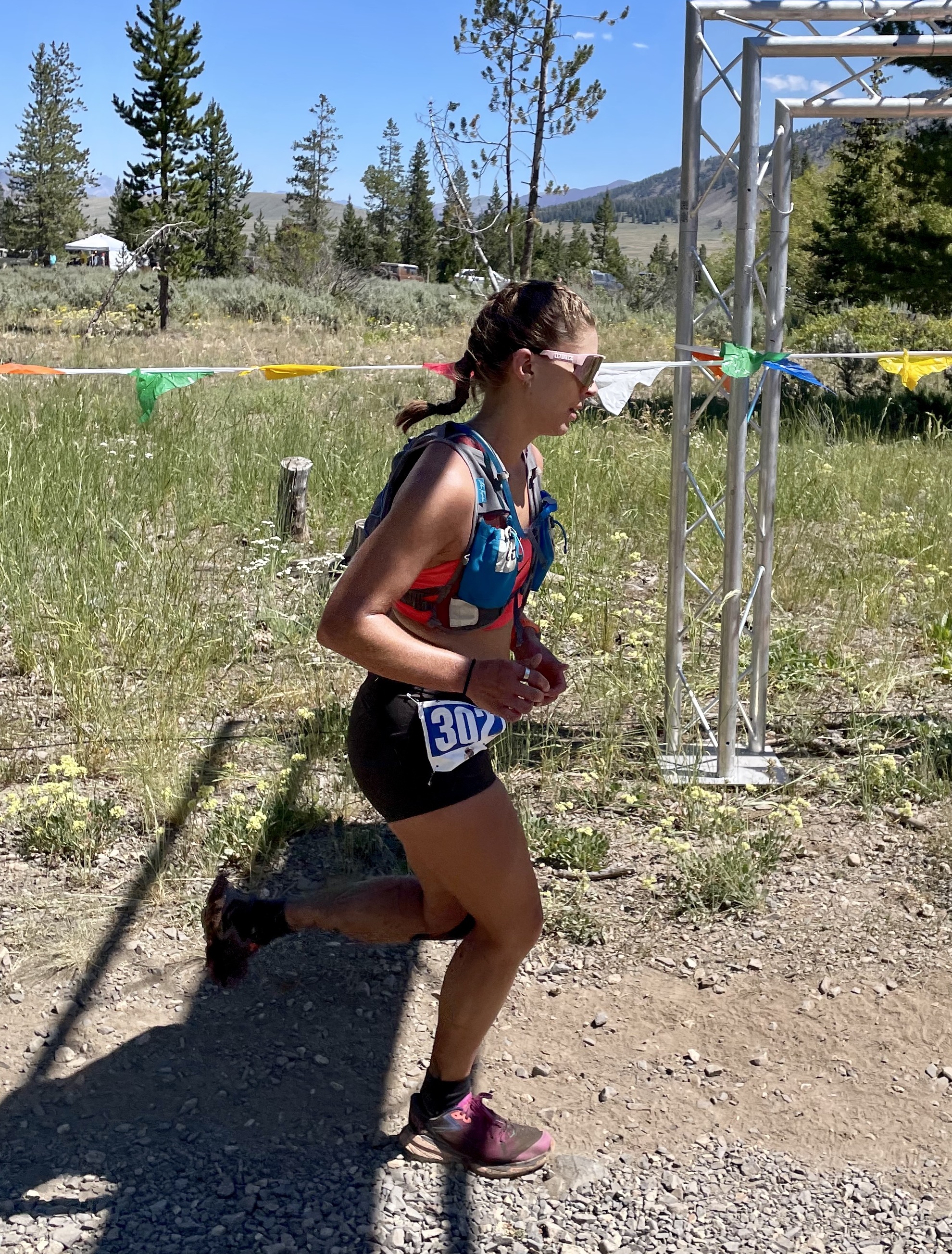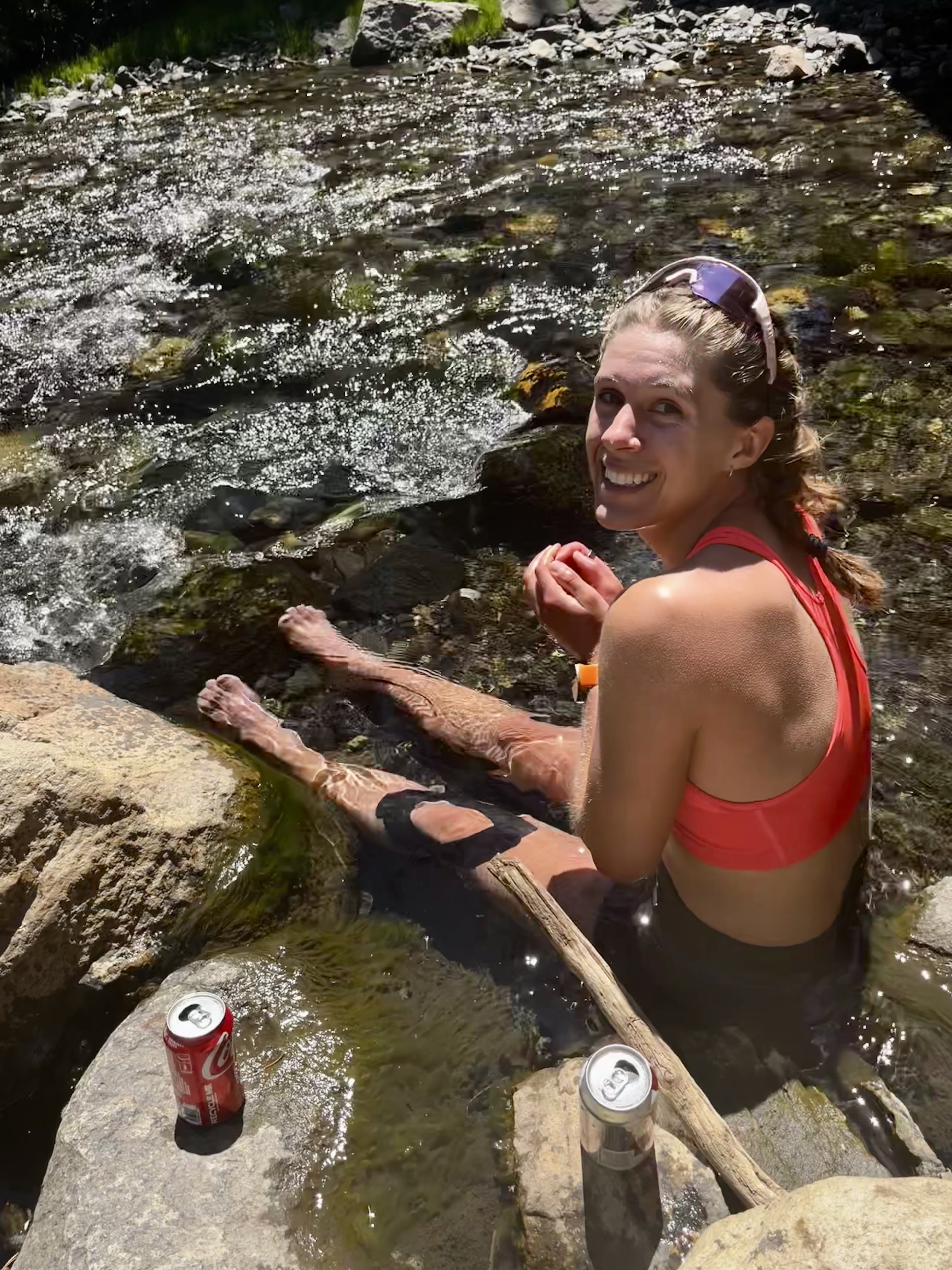 (Top: coming into the finish of the 30k. Bottom: Icing my legs the stream)
After the race, my plan was to target some key rollerski intensity workouts, some longer trail runs, and hopefully at least one mountain bike session. Unfortunately, my body had other plans. After the Standhope, my body felt heavy and tired, which I attributed to doing a race at altitude after a hard week and a half of training. The real test came with some intervals a few days later where I felt, simply put, atrocious. On top of feeling tired, I had some painful irritation in my right eye that was steadily getting worse, to the point where it was hard to keep my eye open. Turns out a few pieces of grit had found their way into my eye and put a scratch in my cornea along with a few other minor abrasions. The cornea is the outer layer that protects your eye from dirt, grit, disease, and UV light. When that layer is damaged, your vision can become blurry (imagine a scratch on the lens of your glasses) and extremely sensitive to sunlight. The combination of built up training fatigue and my inability to see clearly and without pain took me out for quite a few days, a lot of which I spent napping furiously and trying to manage my frustration at not being able to do the long mountain runs I had planned.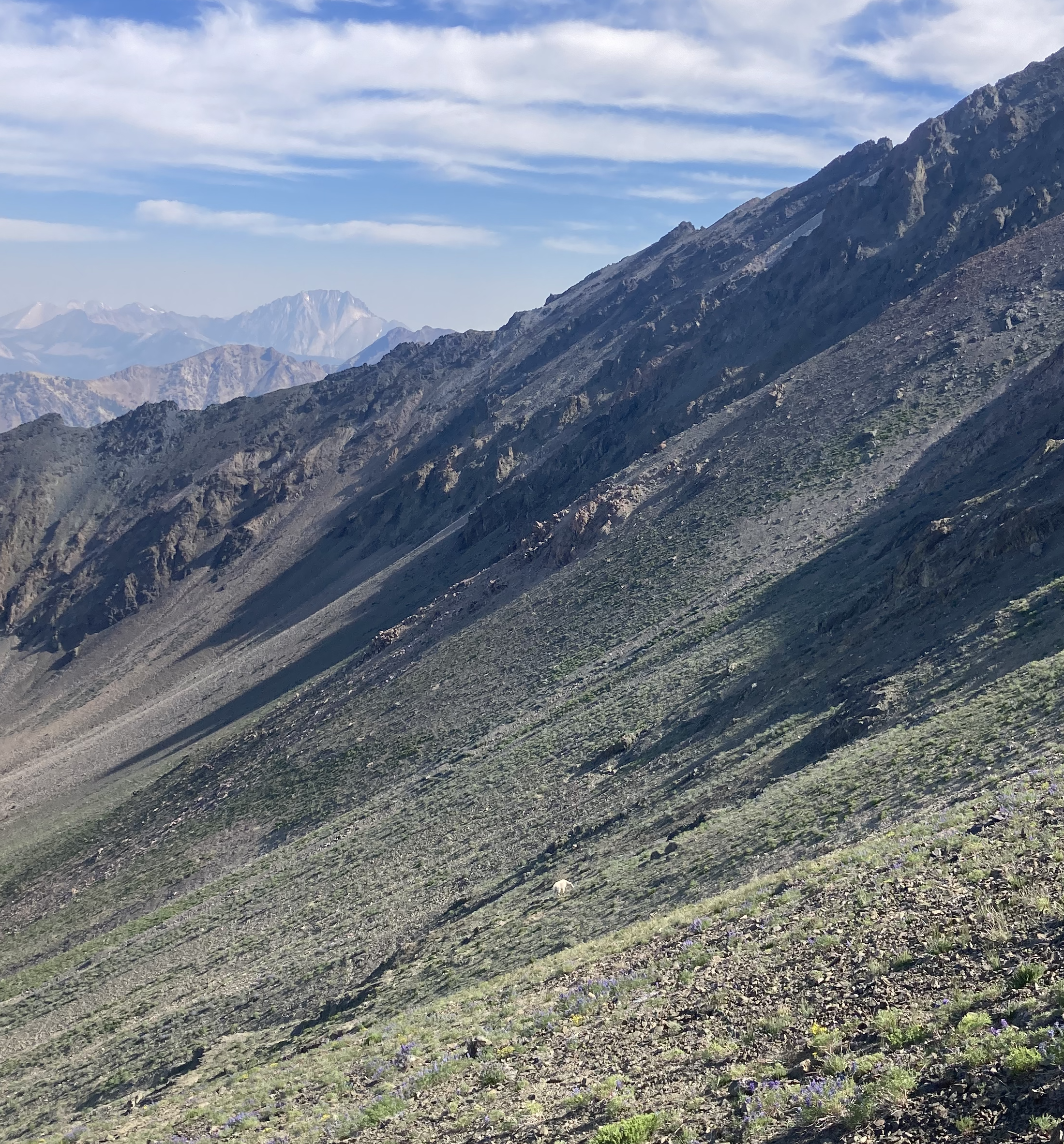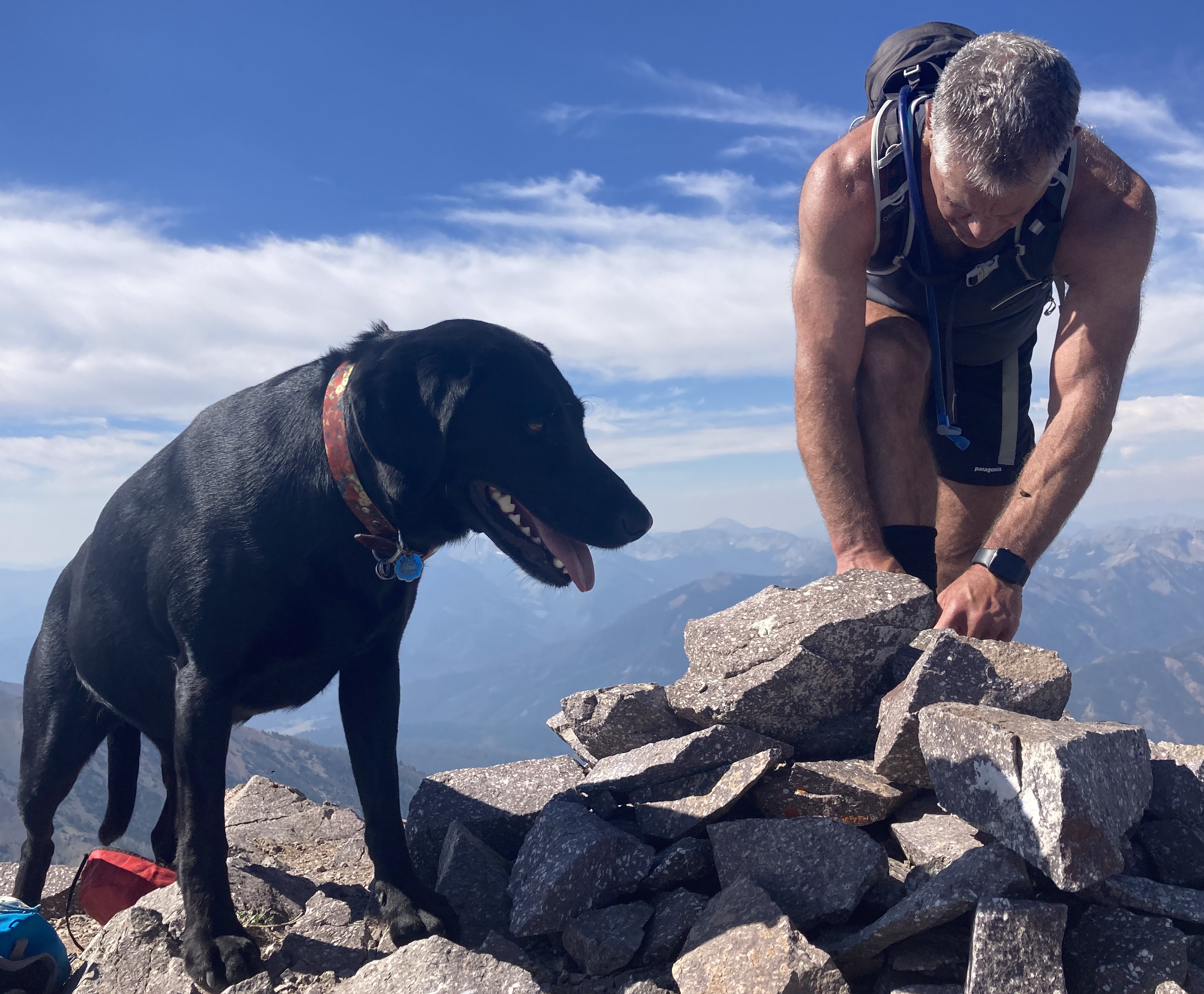 (Top: Can you spot the mountain goat? Bottom: My dad and Teva at the top of Galena Peak)
It's times like this, when the comfortable and periodized schedule of eat, sleep, train, is disrupted, where I have to remind myself to not get too worked up about it. A few lost training hours don't really matter all that much one way or the other. Recovery is the other side of the training coin that so often gets under-prioritized. For me, I'm so comfortable with the grind mentality of training that taking more than one day in a row off makes me feel lazy and unproductive, especially when I am sick/injured and can't do other fun activities to fill the gap. I think it's important to recognize those feelings and to make a conscious effort to reshape the

narrative towards all the positive things not training can lead to. I had to tell myself that if I was napping 2+ hrs a day and getting a full night's rest with no trouble, I probably really need that rest to heal and recover. I also ended up having a lot more time to spend with my family, which is never something to be taken for granted.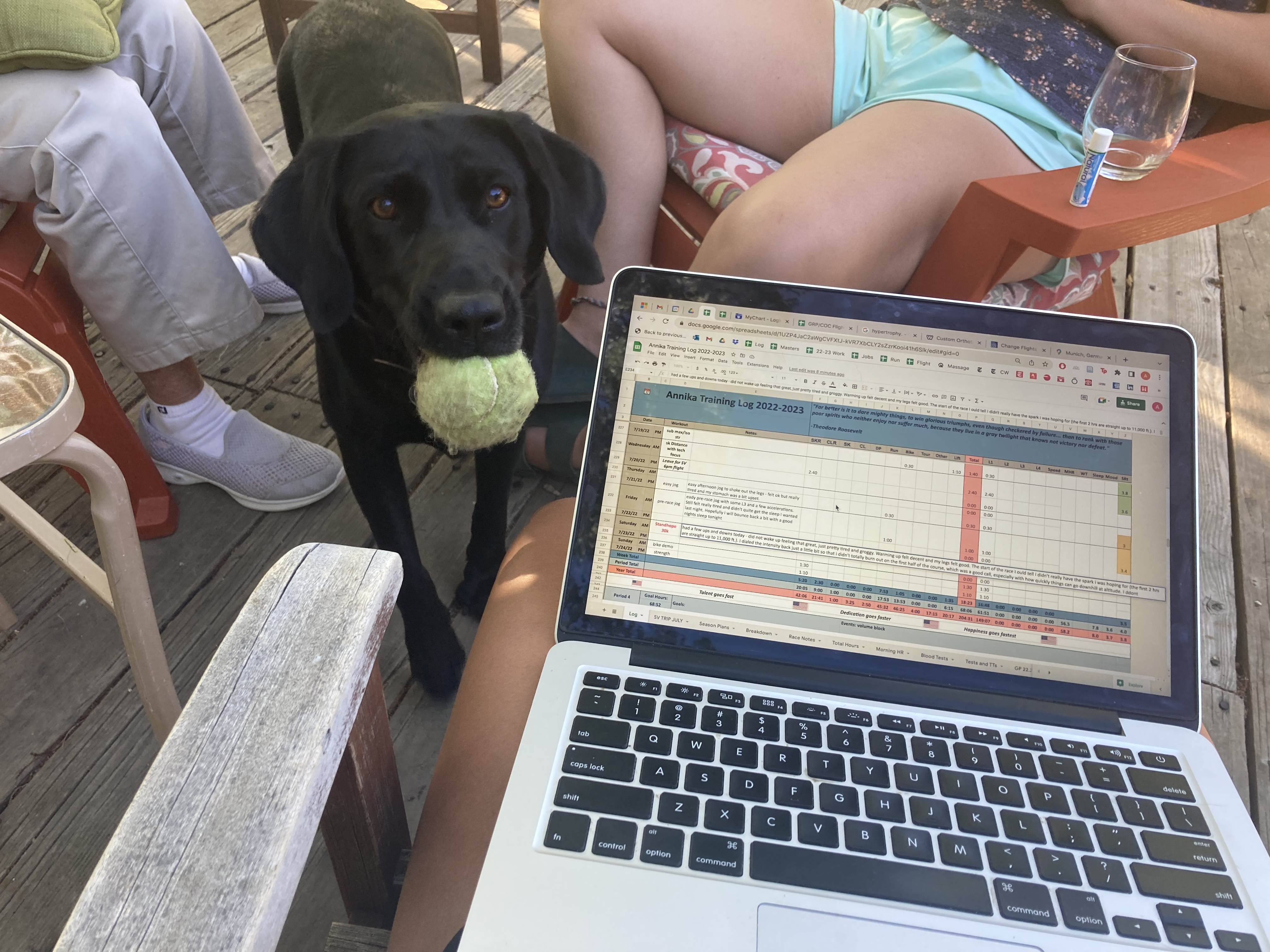 (Teva helping me fill out my training log.)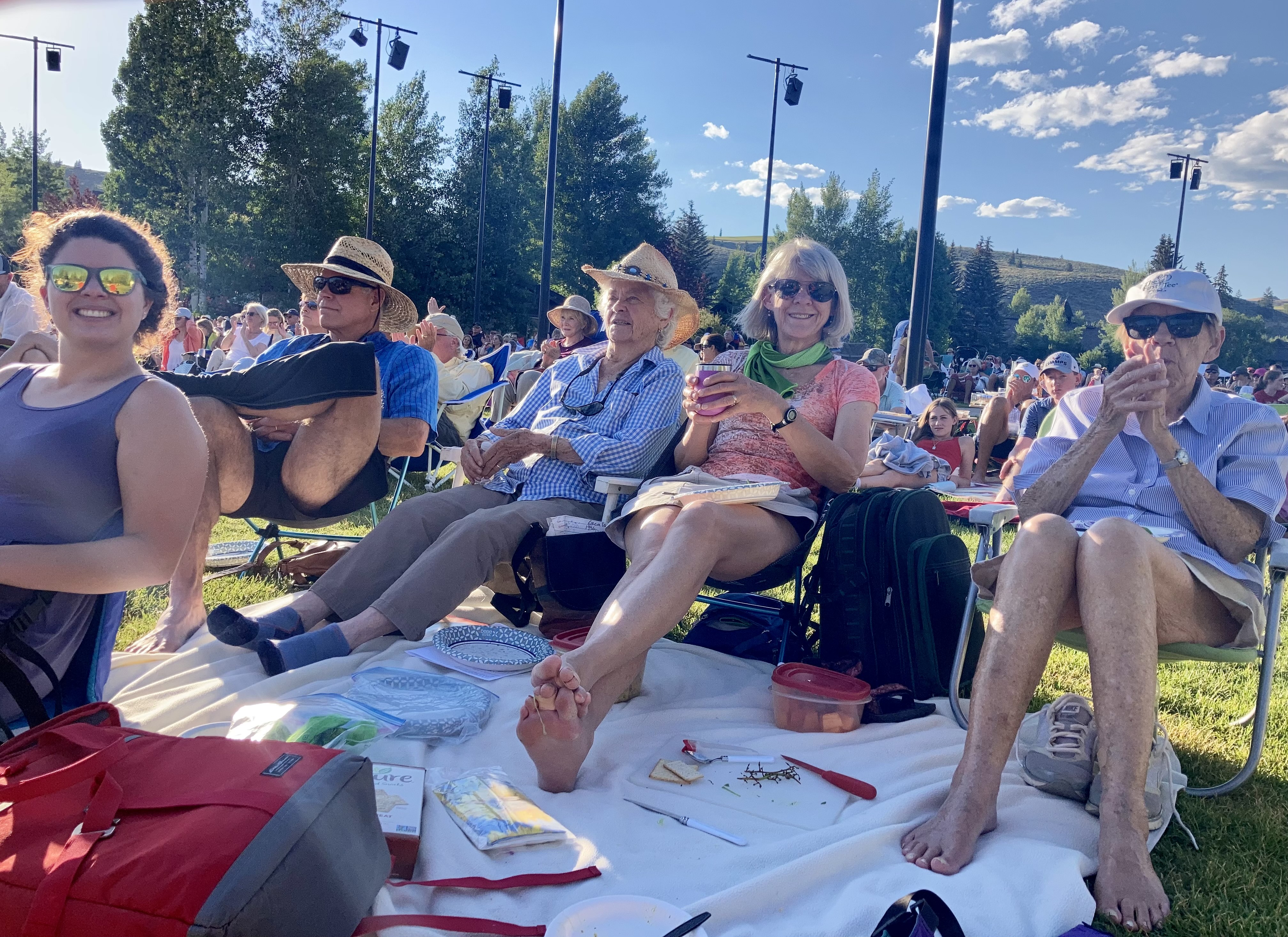 (Family picnic at the symphony with both of my grandmas)
When your body tells you to slow down, for whatever reason, it is usually a good idea to listen. Once I let myself embrace the idea of etra rest, I was able to enjoy it and capitalize on it instead of trying to train through something my body would absorb. Luckily, once the grit was removed, my eye started healing very quickly. My restlessness did get the best of me and I was able to go for a nice trail run on my last day home. Overall I had a great trip and as always, the goodbye to the dog was the hardest. Now I am back in Vermont, gearing up for a big volume block, knowing I'll be looking forward to any recovery day I can get.
Until next time, Annika