Posted by Lauren Honican, Lumi Experiences on Nov 11th 2023
Beyond Grooming: Year-Round Work for Ski Trail Perfection
The adage says, "Great skiers are made in the summer." Great ski trails are also a product of year-round maintenance, so that the trails are ready to go as soon as the snow starts falling. As we prepare for the first Lumi trip of the season to Seefeld & Seiser Alm in January, we wanted to share a little more background about what goes into preparing perfect Nordic trails.
Last winter after a big March snowstorm in Vermont's Northeast Kingdom, Lumi's Communications Manager Lauren Honican woke up early for a Pisten Bully adventure with her neighbor who grooms his own trail network. Lauren shares what she learned about the secrets to ski trail perfection...
–
By Lauren Honican:
Over a foot of snow had come down overnight and was still falling. I had gone to bed hoping that the 8 miles of rural roads between my home and Roger's ski trails would be passable in the morning. By 7:00 AM, I had uncovered my car, shoveled enough snow from my driveway to start my journey and was pleasantly surprised to find plowed roads… up until the last ½ mile. I set out by foot postholing it down Roger's road and reached him in his Pisten Bully.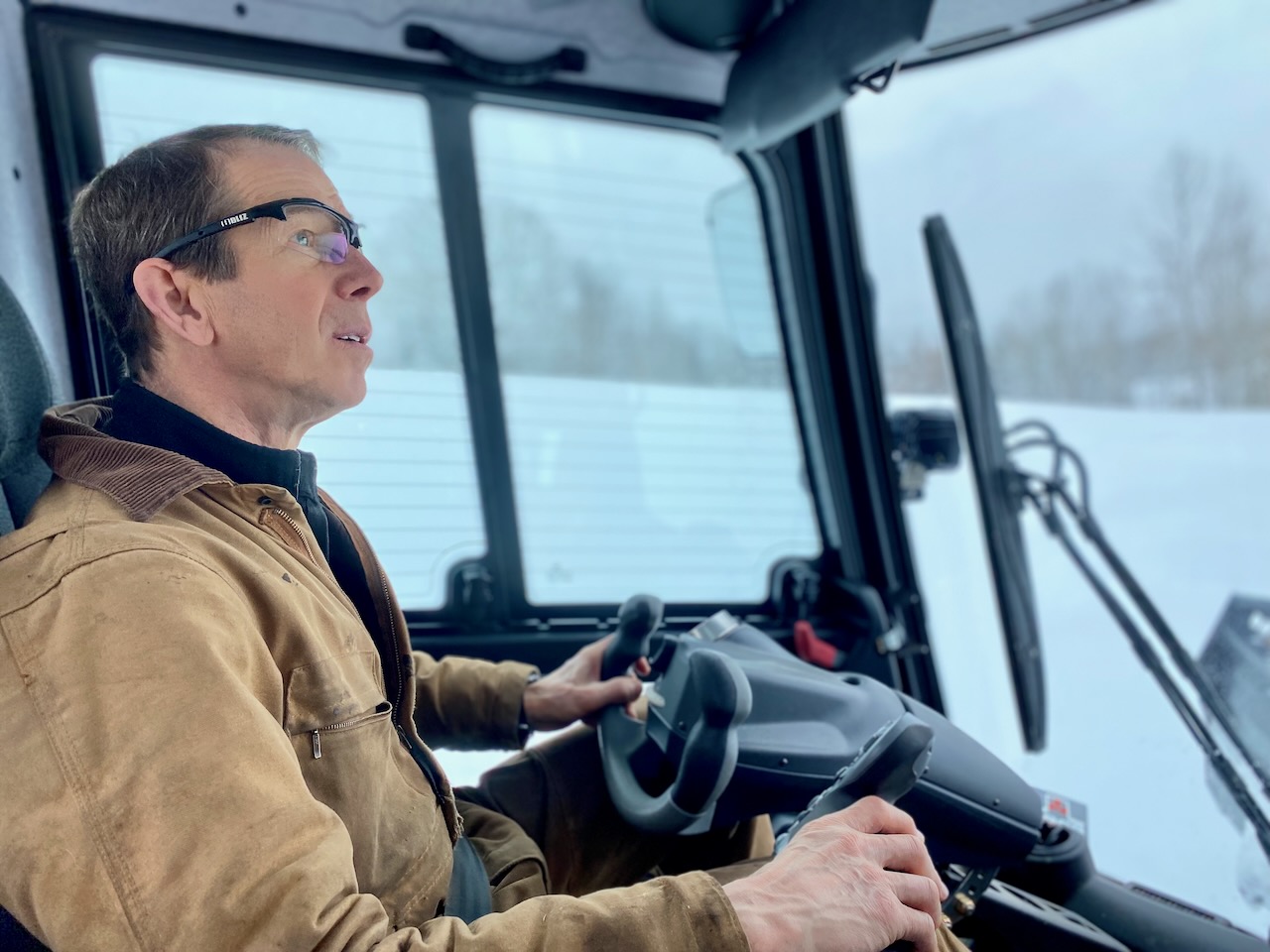 I climbed up onto the rubber tracks, pulled the handle and stepped into the 11,000 pound machine, joining Roger in the cozy cab of the bright red groomer. We set out for the next few hours to groom the 13.7km of ski trails that wind their way through 266 acres of rolling pasture and forestland in northeastern Vermont. The snow was deep and soft, so the plan was to take one slow pass in the groomer, focusing the machine's exertion of pressure on the tiller to compact as much snow as possible on the trail below. Since the snow was still falling, Roger already knew that he would be out grooming again this evening.
As Roger operated the Pisten Bully, he explained what goes into impeccably groomed trails. Surprisingly, most of the hard work is done outside of ski season.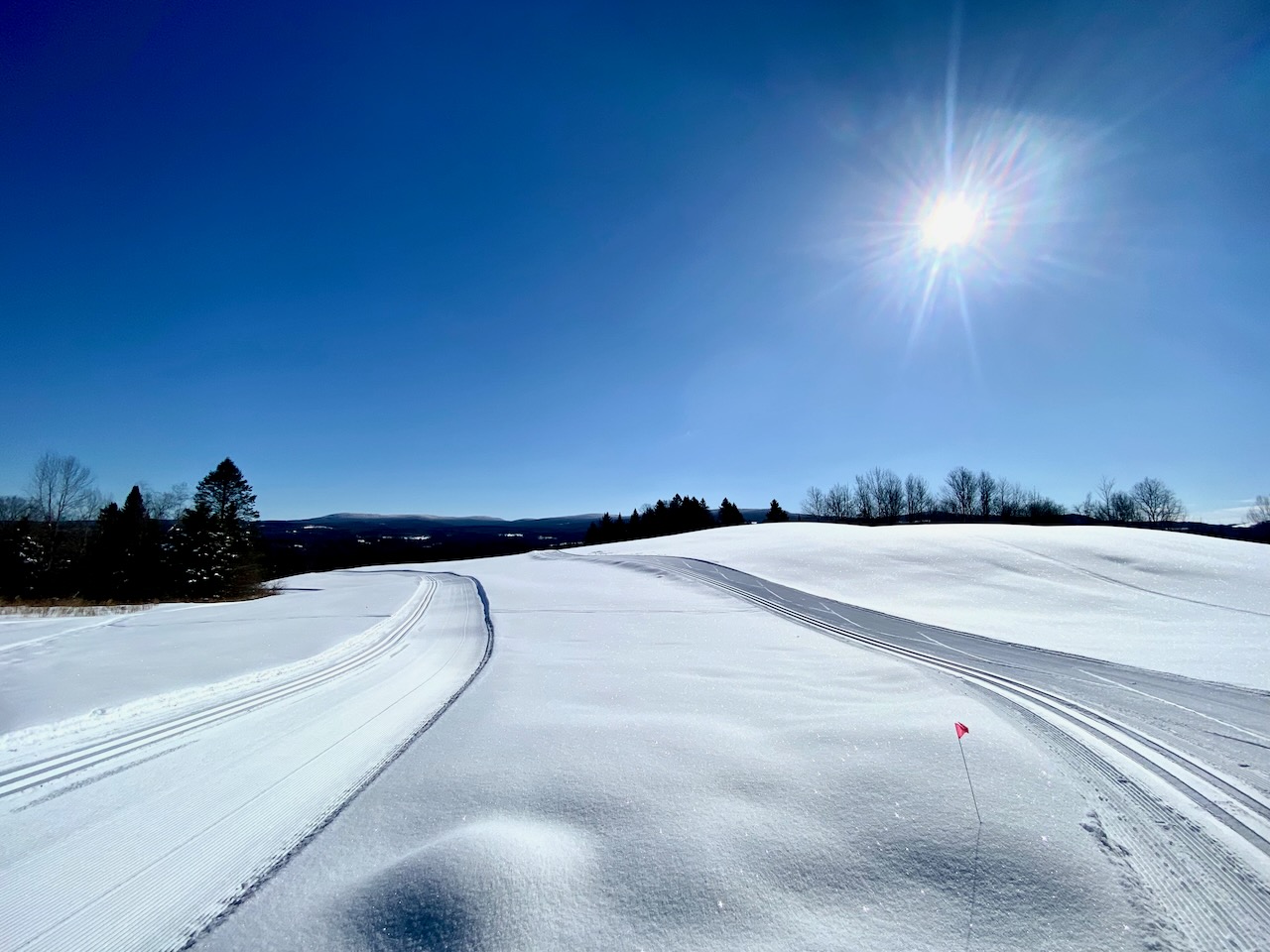 It all starts with trail design. After years of grooming trails with a snowmobile, Roger and his wife Margie who met Nordic ski racing, purchased 5 adjacent parcels with the vision of creating the perfect cross-country ski experience. They hired John Morton, expert trail designer, Middlebury College alum, Olympic biathlete and former Head Ski Coach at Dartmouth College, where Roger met him while learning to Nordic ski with the team during graduate school.
Roger told me how John spent days bushwhacking around their 266 acres, looking for good cross-country ski routes in their overgrown forest that used to be logged for pulpwood. Surely there were plenty of old logging roads scattered throughout the property that were used to transport trees efficiently in and out, but John prefers to map out trails that are gently meandering loops with a little up and down.
This is exactly what he designed for Roger and Margie: there are four different loops ranging in distance from 1.4 to 4.6 km and they all connect, so skiers can choose how far and which loops they want to ski. By this point in our conversation, Roger and I had groomed the first half of the upper and middle loops and were making our way towards the lower trail.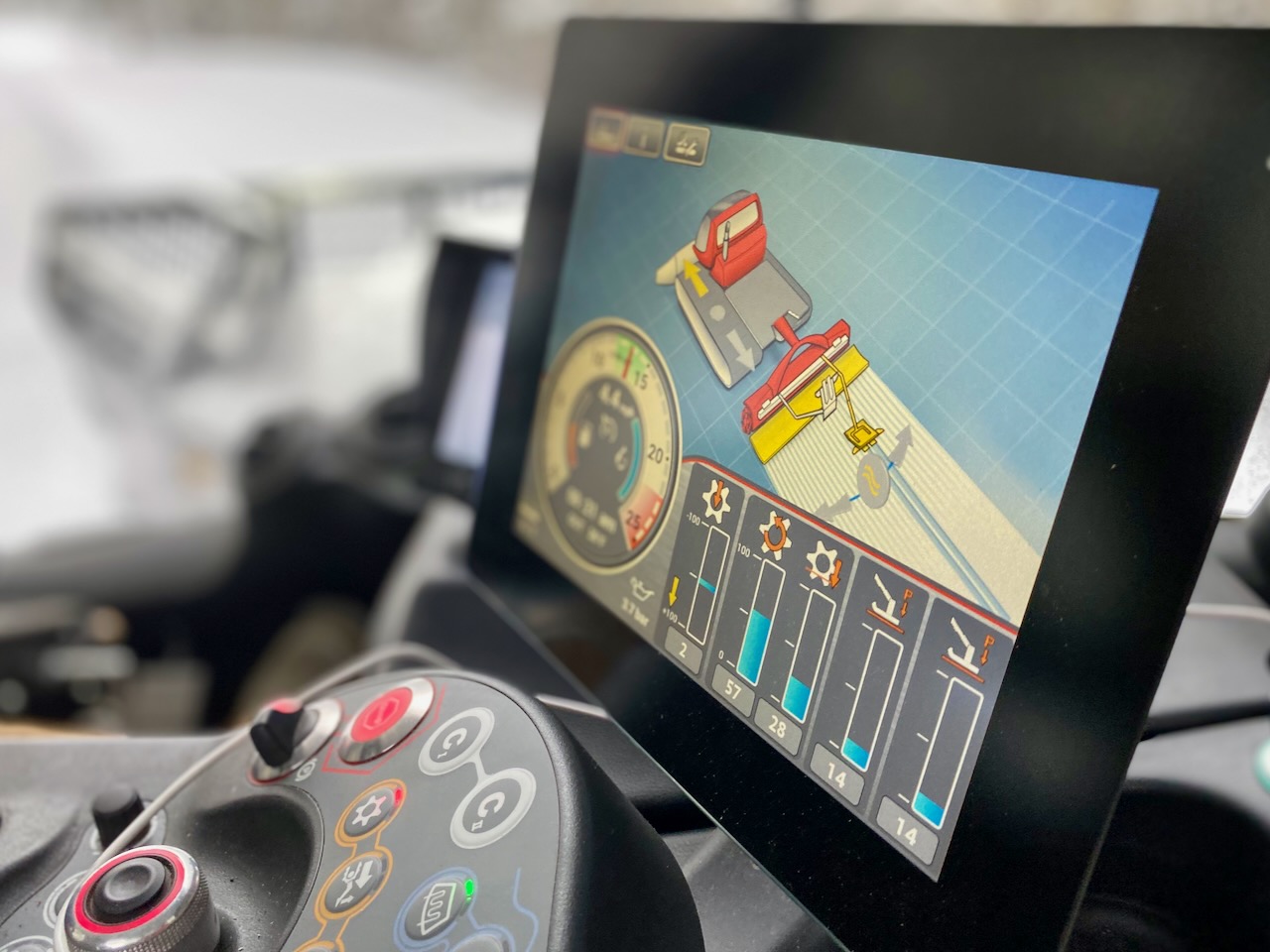 When we reached Confusion Corner, where 8 trails intersect, we took a sharp turn downhill and Roger quickly lifted the classic tracks. A benefit to being a skier-groomer is knowing when to set parallel tracks for classic skis, and when to lift them for the fast, sharp downhills or steep inclines.
As we started to groom the lower loop, Roger taught me about trail maintenance during the summer and fall. The trees along the trail had changed from deciduous hardwoods like maple to conifers that were once heavily logged. Roger pointed out a few fir trees close to the trail that he planned to remove during the summer: snow tends to pile up on the evergreen branches, which prevents snow from reaching the ski trail below. Think of it like natural snowmaking. Although firs aren't always bad for ski trails. If they are at least 20' away from the trail on the southern side, they can help block the sun from melting the snow and still let snow fall on the trail – a win, win.
The evergreens do tend to fall down a lot though. This winter, more than 100 trees had already fallen, creating summer work for Roger to remove logs, stumps and branches from near the trail.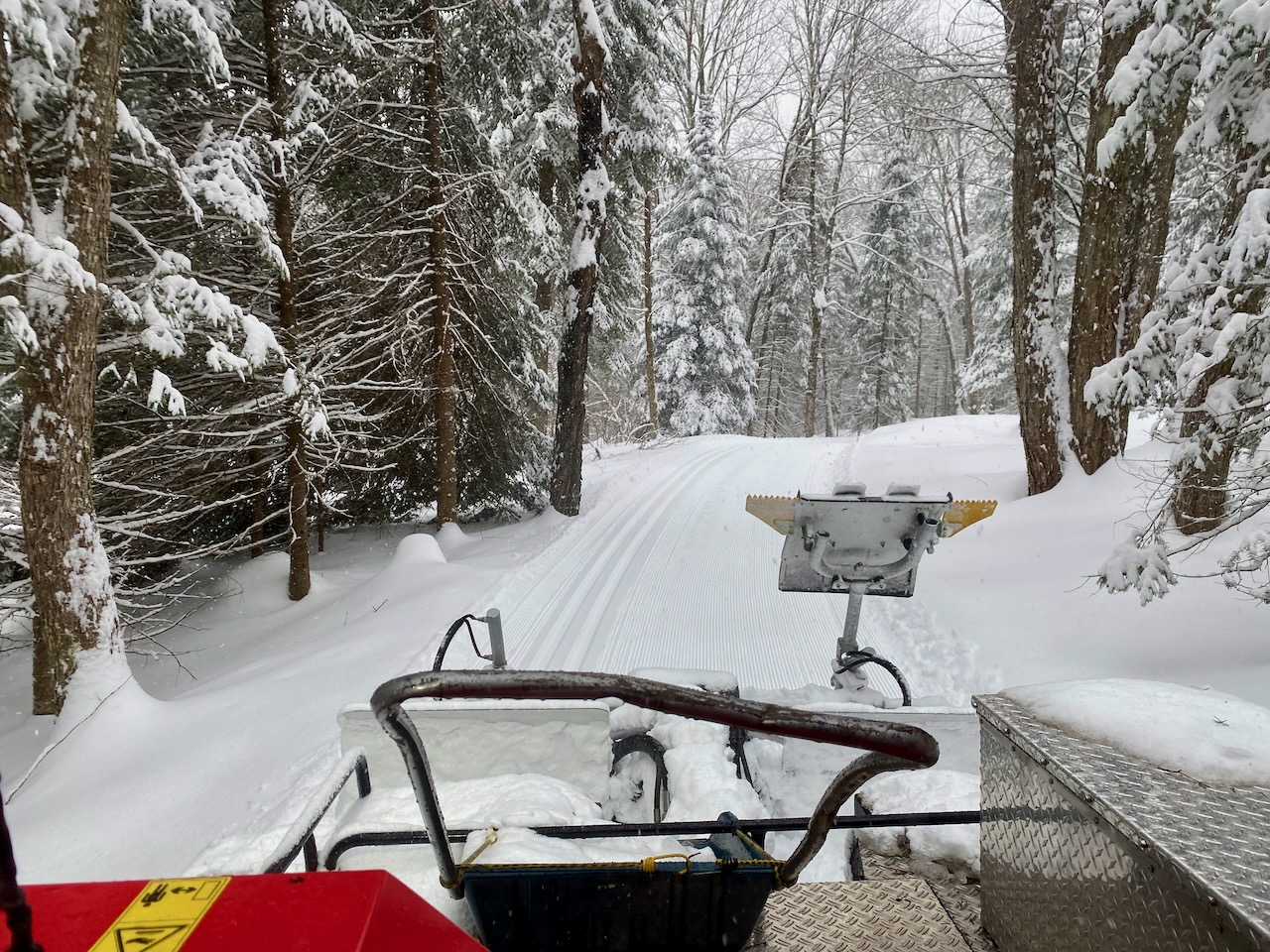 We took a sharp turn and Roger maneuvered the Pisten Bully in reverse down a steep access road. He deployed the blade—much like a snow plow—on the front of the machine and pushed tons of snow forward toward the trail, a strategy he uses to counteract early melting by building up snow on south-facing parts of the trail that get a lot of sun exposure.
It was peaceful in the Pisten Bully. No skiers, but lots of fresh animal tracks, including Bobcat prints which Roger and Margie see most mornings when they're the first to hit the trails.
We wound our way up to the middle loop and the trees changed back to hardwoods. Roger pointed out some of his favorite maples and a hophornbeam, special for its very hard wood. He likes the hardwoods so much, he tends to let them grow very close to the trail, as they let snow through their branches to the trail below in the winter. Although the smoother the trail, the less snow you need. This is why the trails are not open to mountain bikers during the summer – no ruts allowed! Roger also uses an excavator during the off-season to smooth out the trails and plant grass seed to cover them, keeping them pristine for wintertime enjoyment.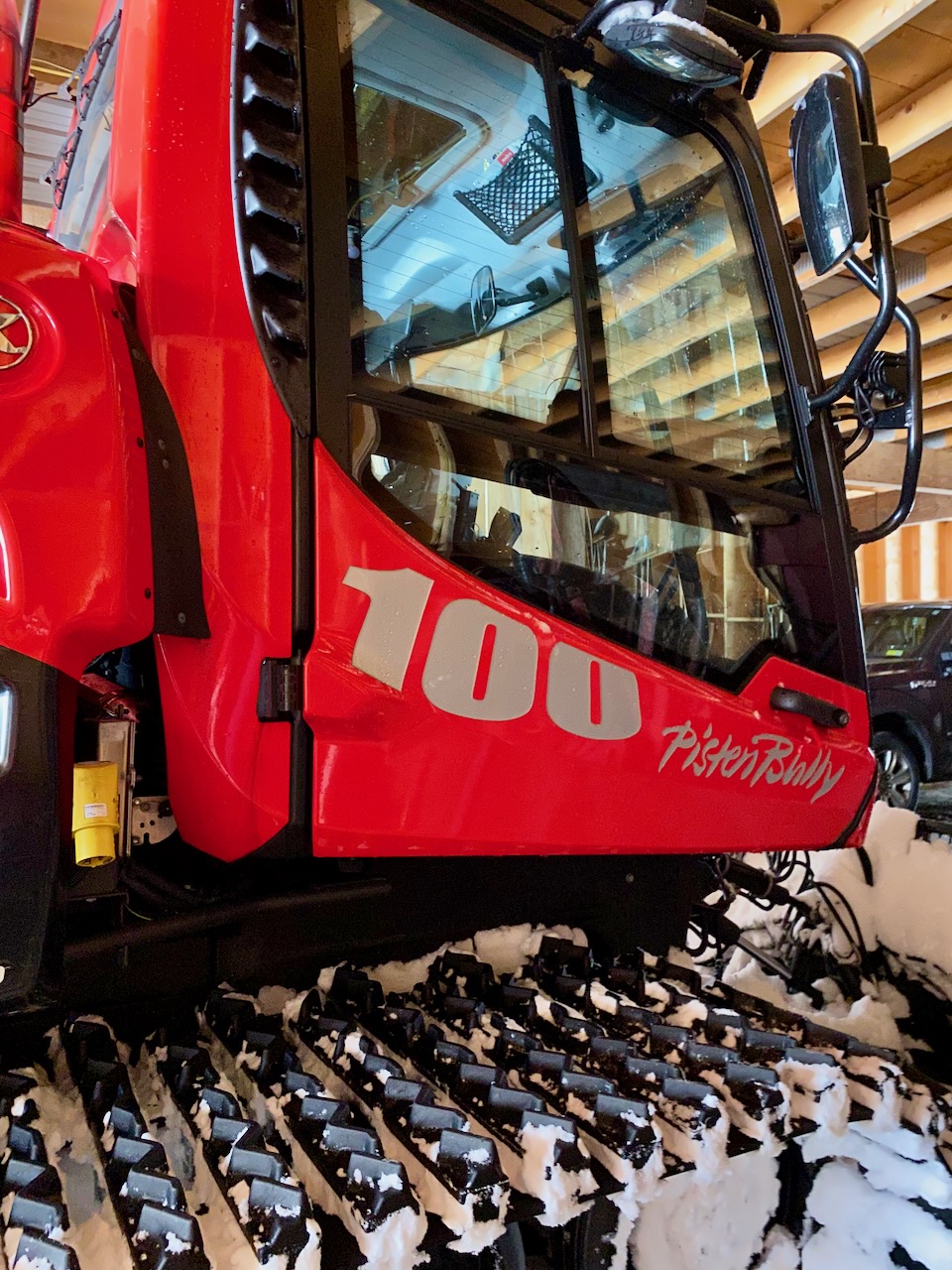 By the time we reached the upper loop and only had about 3 km left to groom, I had a much better understanding of the year-round work that goes into making these trails what they are in winter: perfection.
Like many skiers who log hundreds of training hours in preparation for winter, Roger has logged his summer hours preparing the trails. As soon as there's enough snow on top of frozen ground, he will roll out trails for skating. When the snow is deep enough, he'll set track for the greater community (including four-legged friends!) to enjoy absolutely perfect cross-country skiing.
When you clip into your skis for the first time this winter, take a look around and appreciate all of the work that your local trail network has done to prepare the trails, so that they're ready to groom and ski as soon as the snow flies. Enjoy!
–
Huge thanks to Roger and everyone in the ski community who grooms trails throughout the winter and cares for them year-round.
Here in Austria, the groomers are getting ready too. As soon as the ground freezes and the temperatures are consistently below freezing, Seefeld will open its snowfarming loop. Thanks to the mound of snow they piled in a shady hole last spring and insulated with hay and sawdust over the summer, the 1km track is scheduled to open on November 17, just a week away.
Here is a video from Seefeld in November 2020 to give you a taste for the early skiing in Seefeld on a snow-farmed loop.
Want to ski in Seefeld yourself? Check out our Seefeld & Seiser Alm or Seefeld & Engadin trips. We'd love to share our favorite European trails with you.
Here's to skiing on snow soon!
Garrott