Posted by Garrott Kuzzy, Lumi Experiences on Jul 21st 2023
To the Jura, allez!
If you've been following the Tour de France, you've probably heard lots of fans along the course shouting "Allez", "Go!" in French.
To celebrate the Tour de France this month, we're offering $300 off for bookings before July 23 on Lumi's trip to the French Jura and Transjura Worldloppet this winter.
Before the Tour wraps up this weekend, cyclists will head to eastern France on Friday, July 21 to ride 172.8 km from Moirans-en-Montagne to Poligny (stage 19 of the race). The route will take riders past a number of small lakes with distant views of the Jura Mountains to the east, beyond which is Switzerland's vast Lake Geneva.
Cyclists will start stage 19 within the Haut-Jura Regional Nature Park, one of 58 such parks in France, stretching 178,000 hectares at the foothills of the Alps. The park was first established in 1986 to protect the special biodiversity and support the economic development of this mountainous region, which encompasses 122 rural villages.
As it turns out, this February, guests on Lumi's France trip will be less than 50 km away in Les Rousses, France, a renowned ski area that is also part of the Haut-Jura Regional Nature Park. Known for hosting France's largest cross-country ski race since 1980 – the Transju' – Les Rousses trails criss-cross a total of 170 km through the villages of Lamoura, Prémanon and Bois d'Amont, where Lumi's France trip leader Annette lives.
Surrounding these traditional villages is a patchwork of vineyards and pastures that produce a variety of wines and cheeses known for their distinct flavors. This roughly 50-mile area is known as the Jura.
In the Jura, the cross-country skiing is world-class and so is the food and wine. You've probably tasted one of the regional specialities, Comté – also known as "mountain cheese." This semi-hard alpine cheese has been produced communally by farmers, cheesemakers, and affineurs (cheese agers) in the Jura mountains for over 1,000 years.
With the Tour de France heading to Lumi trip leader Annette's backyard, we caught up with her to learn what it's like to share her home trail network with Lumi guests in the winter. Did we mention that Annette was previously the Worldloppet's Event Director and her son is a Nordic combined Olympic gold medalist…?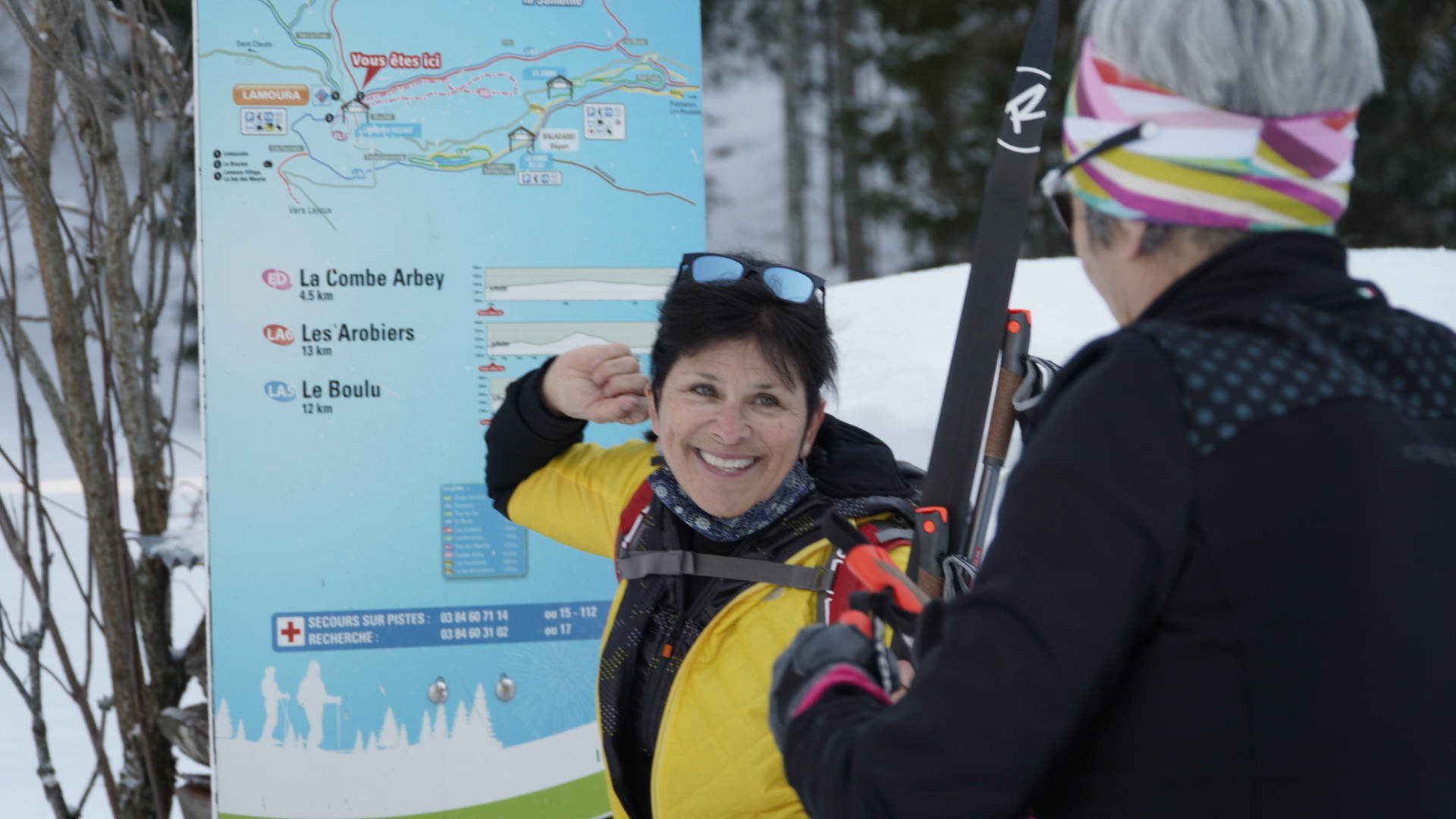 What do you enjoy most about leading Lumi trips?
I mostly enjoy the people. I love that group spirit and enthusiasm that comes from a group of people sharing the common passion of Nordic skiing and experiencing new cultures. Sharing the treasures of my corner of the world is pure pleasure!
What's something about French culture that you enjoy sharing with travelers?
The different regions in France are so diverse in culture, traditions and heritage and like most regions, Jura boast a culture of wine and cheese; but what I enjoying sharing most with travelers is our Nordic ski trail system, truly the best in France.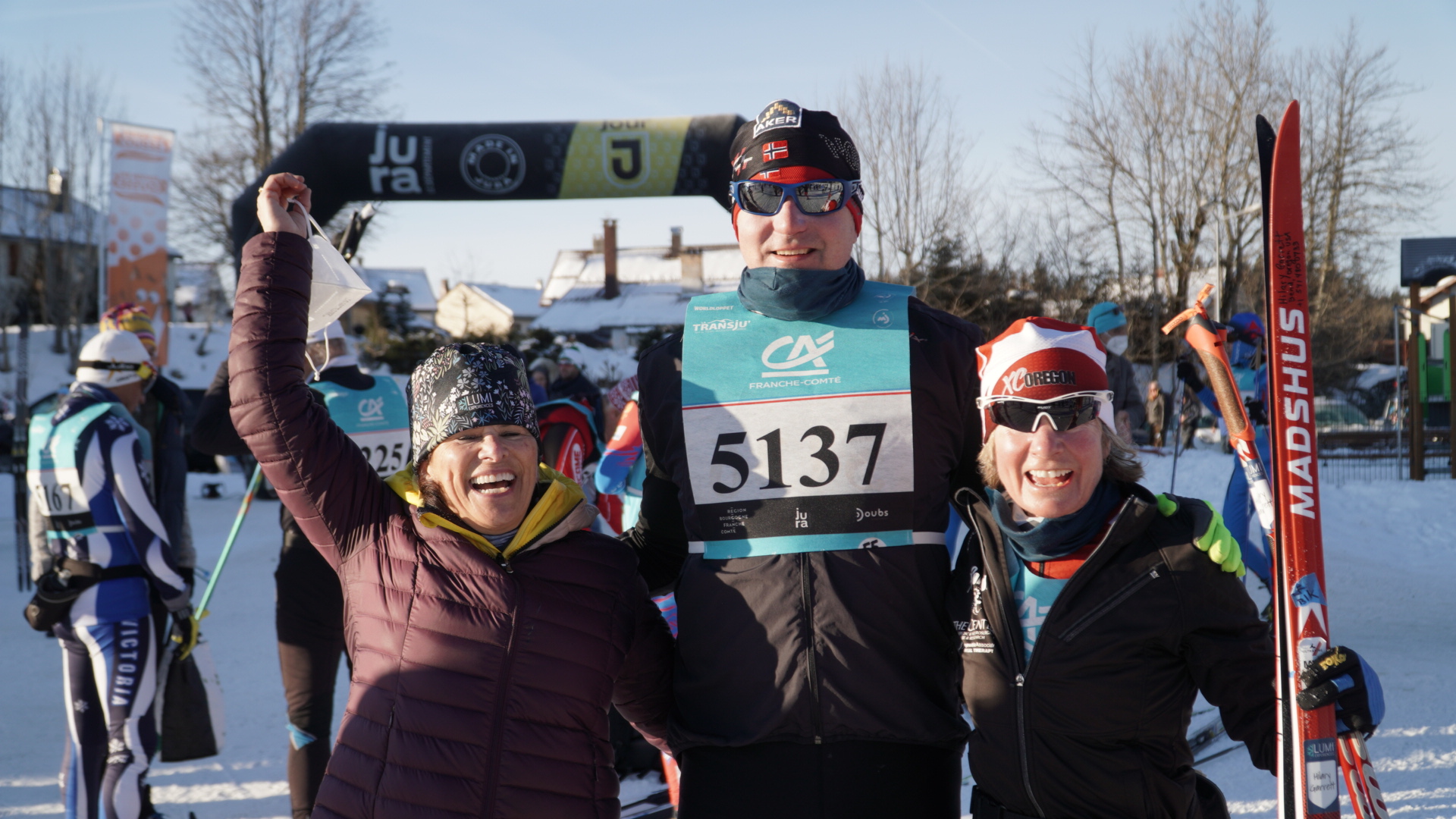 What's been your favorite experience from a Lumi trip?
I love experiencing the strong emotions of the Worldloppet race day as a Lumi leader. Seeing the skiers off at the start, with that anticipation and pre-race tension and then being there at the finish line with a hug, a high-five and a beer to top off that "I did it" moment!
When you think back to all the meals you've enjoyed on Lumi trips, which do you remember most fondly?
Skiing up to the Chalet. It wasn't just the magic of that last climb up to the frost covered Chalet with a bluebird sky backdrop, or the great hut food… it was more about the group chemistry, easy friendship and laughter.
What about ski trails - which is your favorite?
I truly enjoyed having the time to ski the different areas our region has to offer, but if I'm honest, taking Lumi skiers to the Risoux tracks just behind my house was a highpoint. There's nothing like being able to ski out your back yard and being able to share it. It just happened to be an amazing crust day to boot!
In celebration of the Tour de France, we're offering $300 off the Lumi France trip through this Sunday, July 23, when cyclists will be finishing the Tour in Paris. Reach out to info@lumiexperiences.com to receive the detailed France Transju' Trip itinerary and to sign up with the $300 discount