Posted by Scott Lacy on Jul 28th 2022
With heat waves hitting all over the world and the volume of summer training hitting its high point, learning to train in the heat is more important than ever. Especially for us winter athletes, heat is difficult, can be dangerous and is often discouraging. Luckily for us, there is so much good product, training science and experiential learning to go from. I have been experimenting and honing my higher heat skills for a few years now and am confident in a few key things everyone can do to help keep training cool!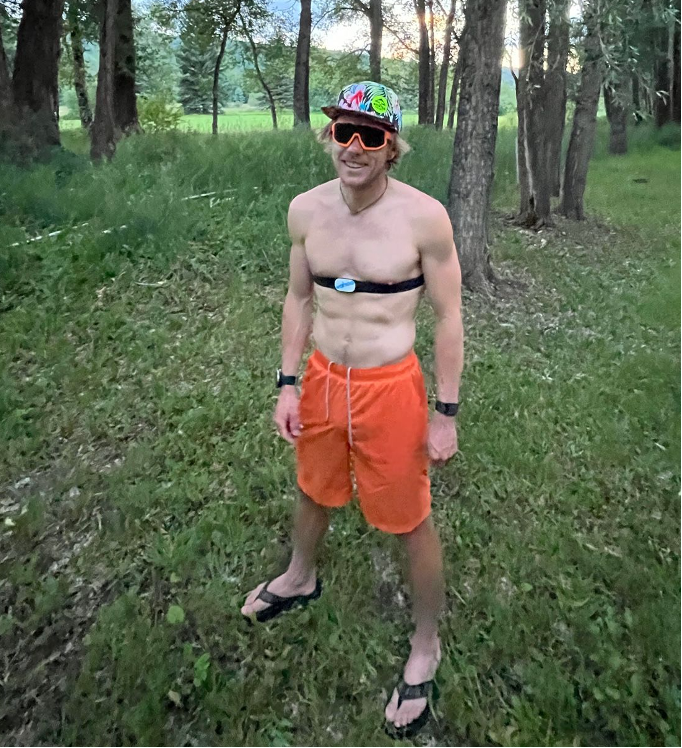 Heading out just after dawn to while the air is still cool, with my favorite Bliz Fusion Glasses
1. Start Early! This is by the far the easiest thing you can do to beat the heat. Literally just training in the coolest part of the day. Not only is early morning the coolest part of the day, it is often the lowest trafficked time on trails and roads making it safer and more peaceful, and has the added benefit of more time during the day for work or rest. I aim for a 7am start for most sessions during the summer.
2. Use Sun Protection! This is often counter intuitive, but is a proven way to avoid the effects of intense sun. Unlike the picture above, when I am training in more direct sun, I am always wearing a long sleeve sun shirt. Yes! You read that correctly, I spend most of the summer training in a long sleeve once the sun is up. I personally love it and never overheat, never worry about putting on sunscreen and enjoy the breeze blowing through a wet or sweaty shirt. This avoids sunburn and helps stay cooler. There is a reason those living in the desert wear full length sun protection all the time. And of course, I always wear a dark tinted pair of Bliz sunglasses when out in the sun.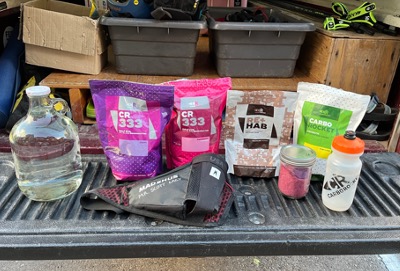 The standard hydration kit I keep in the back of my truck all summer
3. Stay Hydrated! This is a no brainer but easily overlooked. It is astonishing the amount of water our bodies process during a training session in the middle of summer and once you are thirsty, you are already dehydrated. I not only carry a water bottle on my person in every session, I also use a drink mix in every bottle. Depending on the session, I use a drink mix with different amounts of electrolyte and calories and cannot express in words how much of a difference this has made in my training (who doesn't love skipping the cramps and bonks…) . My personal favorite drink mix is a company called Carbo Rocket and they have given me a discount code to share with you all for 25% off your first purchase. Use the code #skinnyskis at checkout. I truly cannot recommend this drink mix enough, from their pre workout, during workout and post workout mixes, it is great stuff.
Pro Tip: On top of carrying water and using drink mix, I keep a gallon jug in my truck for topping off before and after training or making a recovery drink.
4. Swim often! In other words, stay cool. After almost every session you'll find me standing in a lake or sitting in a stream. It not only cools the body down right away, but also has added recovery benefits of a standard ice bath. It is a great way to rinse the sweat off, refresh the soul and appreciate the wonderful, life giving water that we can't live without. And it's just plain fun!
These are my tried and true ways to beat the heat during the peak of summer. I'd love to hear your tips, scott@scottlacy.me, stay cool out there! See you on the trails.