Posted by Garrott Kuzzy, Lumi Experiences on Nov 3rd 2023
All Aboard! with US Ski Team coach Kristen Bourne
Link to Article on Lumi Experiences Website

You think US Ski Team athletes live life in the fast lane? Their lives are not nearly as fast as their coaches. Lumi Experience's Marketing Manager Lauren Honican caught a ride with US Ski Team coach Kristen Bourne last week for an interview en route to practice with her athletes in Soldier Hollow, Utah – site of the 2002 Olympic Games.
When they spoke, Kristen had just attended the Women in Ski Coaching Summit, on the heels of the US Team's Park City camp in Utah. Her review of the Summit was glowing: "There was this infectious amount of empowerment, everybody is lifting everybody up when you're sitting in that room and hearing all these incredible speakers."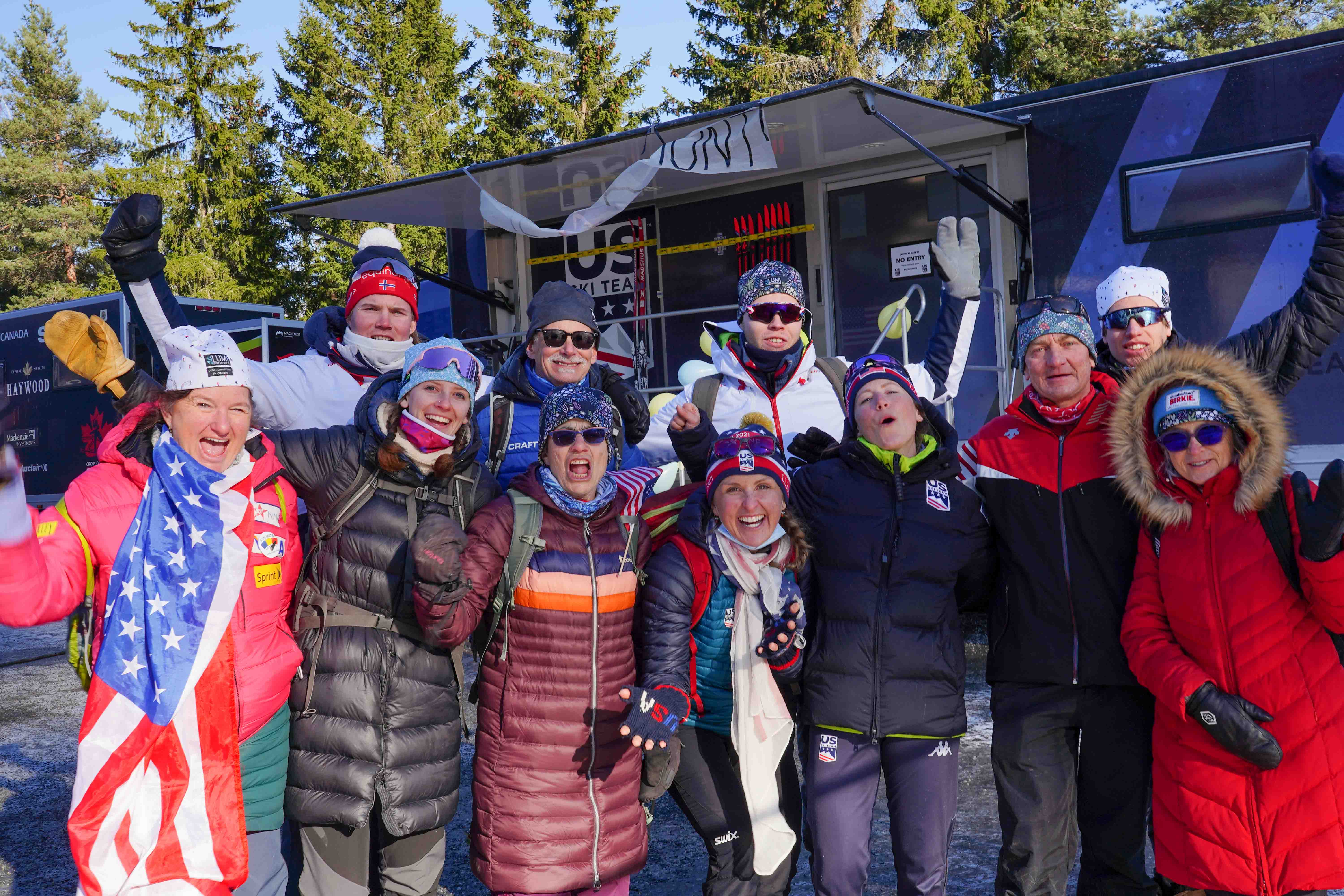 Lauren's interview with Kristen was on Zoom while Kristen was in the car, sunlight streaming through the station wagon's windows on a clear, 73 degree mountain west day. It was a little like the TV series Comedians in Cars Getting Coffee, but on the topic of cross-country skiing. Kristen was riding shotgun with Sam Benzing, Head Nordic Ski Coach at Harvard, behind the wheel. They were on their way to pick up US skier Julia Kern to support her during a skate interval workout at Soldier Hollow.
Kristen talked about her journey to and recent experiences as the US Ski Development Team coach, including what she's looking forward to most for the Minneapolis World Cup (4 spots left on the Lumi trip!).
The following interview includes insights from Kristen and Julia, among other major guest appearances… Buckle up, it's quite the ride!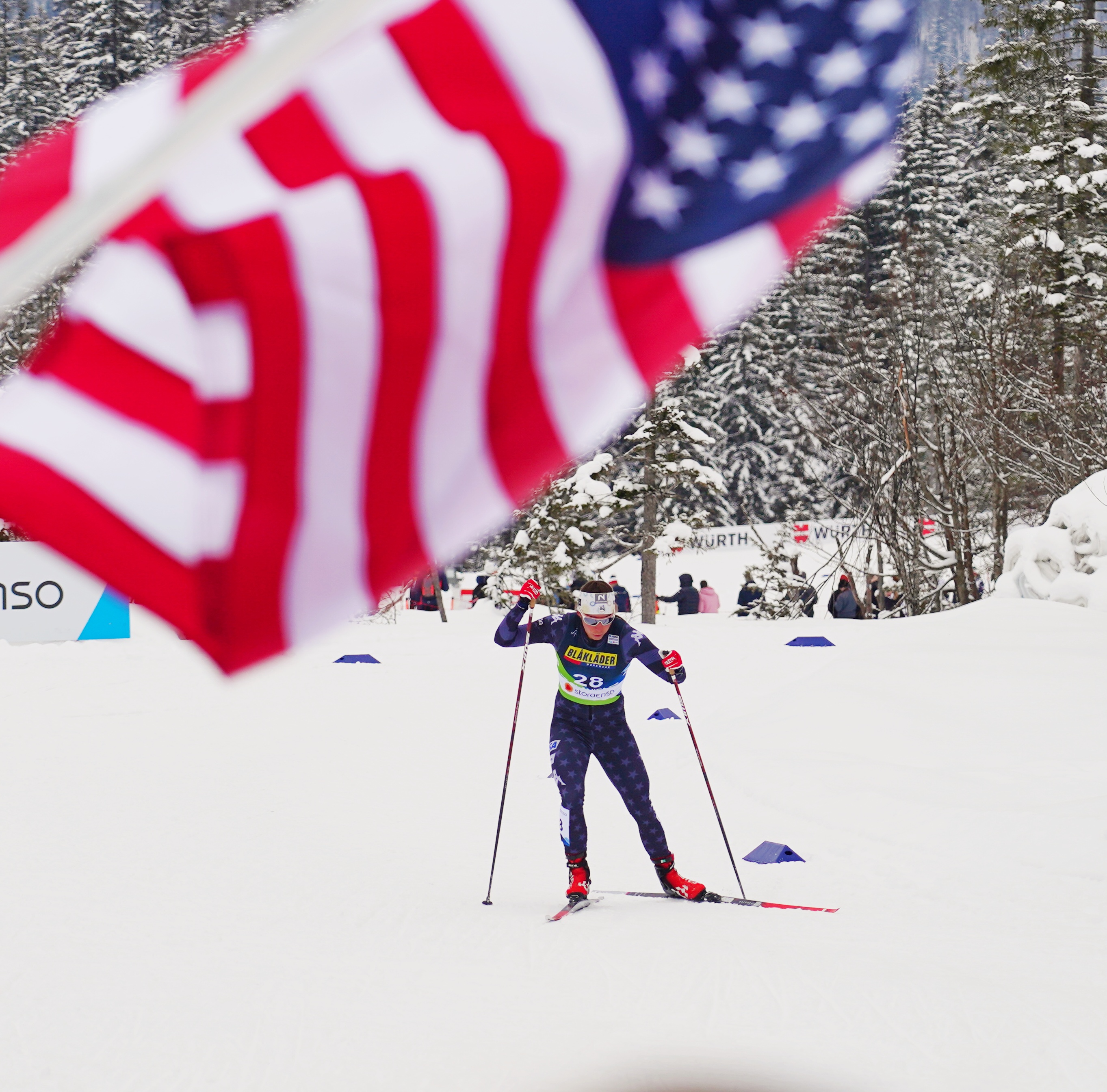 –
Lauren: To get us started, can you give us a snapshot of your journey to your current position coaching for the US Ski D-Team?
Kristen: It has very much been a whirlwind. And so much of that is thanks to Maria Stuber, who found me when I was thinking about transitioning from athlete to coach. She had just started the Women Ski Coaches Association. My dad actually sent her an email and was like, "Hey, I think my daughter would be good at this. And I don't really know how to help her but I just wanted to let you know and put her on your radar. I think she'd be a really good coach someday…" Almost immediately, after US Nationals in Houghton, Michigan, I was exiting the venue and walking to the car and Maria rolled down her window and said, "Are you Kristen? I got an email about you. I've heard about you and I want you to come coach with me at St. Scholastica in Duluth, you'll get an email from me in a week." I did and that's all it took for her to convince me to go coach with her…
To have somebody say, I think you would be good at this and I want you to work with me in a time where you're not really sure what you're gonna do and you're really confused... All of a sudden it opened up a world of possibility like wow, I have a path now and I think I know what I'm gonna do now.
Maria is so persistent about providing professional development and making sure that she's working with you to help you become a head coach someday. That mentorship is incredibly valuable. So once I started working with her, it just like took off. We applied for a grant through the Women's Sports Foundation VanDerveer Fellowship and we didn't get it the first year, but we got it the second year. Maria suggested that I email Chris Grover and Matt Whitcomb, Head US Ski Team coaches. I said, "Hey, I have money to spend, can I come on the road with you?" They said yes and I got to go on to a two week trip, just like the Trail to Gold Fellowship does now. I was in Davos, Switzerland and Dresden, Germany and it was just this incredible experience. I didn't want to leave, I had such a good time.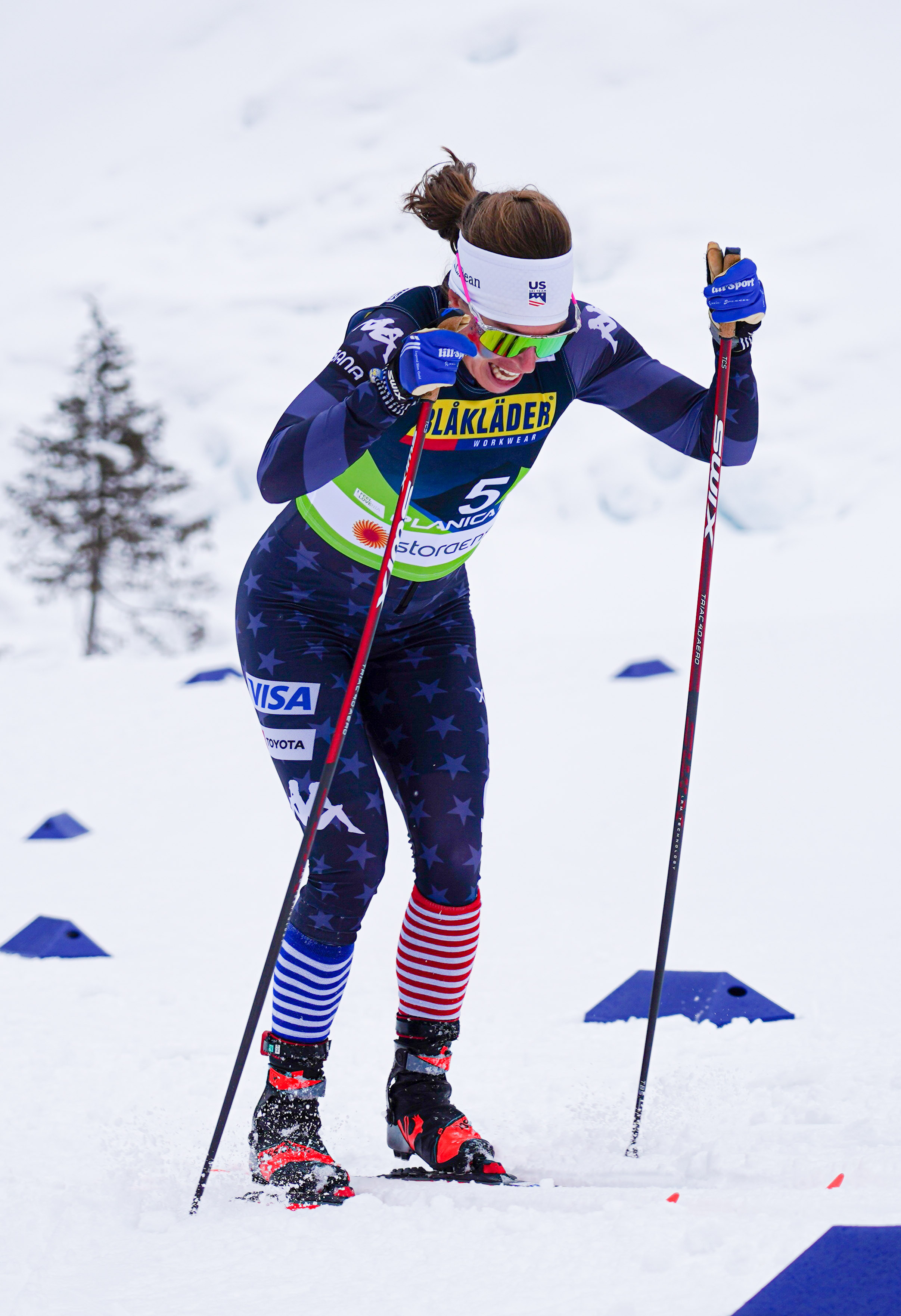 That experience led to others and a little later, I got a call from Chris and he was like, "Hey, we really want you to apply for this" and now here I am!
Now I want to make sure that I'm providing the same experience for Trail to Gold fellows and showing them: you can come in and have an instant impact on something that is generally coined as a well oiled machine and working with the best athletes in the world. That anybody can have an impact there.
Lauren: What a whirlwind. What was the timeline for all of that?
Kristen: Two summers coaching with Pepa Miloucheva, Director of Competitive Skiing at the Craftsbury Green Racing Project, two seasons coaching with Maria at The College of St. Scholastica, and then in June 2022, I started this job with the US Ski Team. [Kristen also just received a Master's in Exercise Physiology in May].
Lauren: What is your position like now? What are the different parts of the season like?
Kristen: Yeah, it's a pretty unconventional coaching position in a lot of ways. I'm the D-Team coach so I oversee the top U23 junior athletes on the National Team. This year we have 9. In the summer I'm traveling like every two weeks going to see athletes or at a training camp.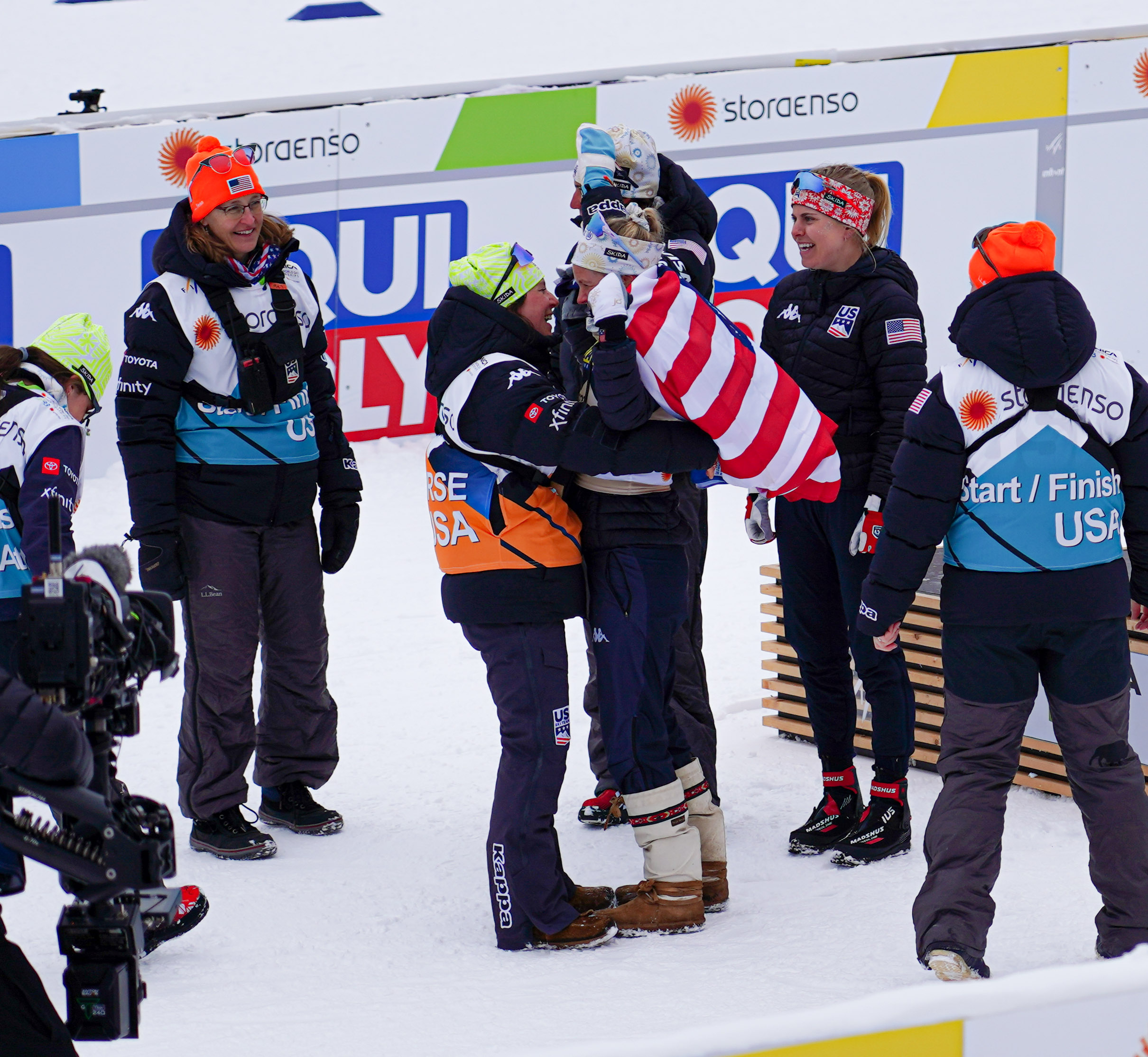 Once the race season begins, I'm still checking in with all the D-Team athletes over FaceTime and looking at their results to try to help them, but the focus of my position pivots to the World Cup and supporting athletes throughout the whole circuit. It's pretty fun, you're basically on one super long European road trip with a lot of cool people. It's hard not to like that.
[Special guest Maria Stuber, now Program Director for the Stratton Mountain School T2 Team, enters. Kristen and Sam make a quick stop in the car to say goodbye to Maria before heading to Salt Lake. Maria says, "Keep chugging along there!"]
Kristen: We're picking up Julia in like 3 minutes so we'll get another guest appearance…
Lauren: What are you most looking forward to with the World Cup being in Minneapolis for the first time in 20 years this winter?
Kristen: It's gonna be huge. The athletes get to have their family and other familiar faces lining the course for the first time at a World Cup. That experience I think is going to be so special for all of them. And then personally I get to see the best athletes in the world race the course that I raced my very first Junior National Qualifier. It's going to be kind of a surreal moment to see my family, friends and people I haven't seen on a race course in a while… I'm anticipating it'll maybe only lightly feel like that Junior National Qualifier all over again. So cool.
[US Skier Julia Kern enters the car]
Lauren: Out of curiosity with Minneapolis, do you feel like there's more pressure on the athletes? Do you feel like people are more nervous about Minneapolis than other World Cup races?
Julia: I think people are not nervous, but more of a nervous excitement. I think everyone wanted this so bad that we can't get our hopes up too high until it actually happens because we got so close last time but I think there's gonna be a lot of nerves on race day. I think it's gonna be awesome because it means we're just so excited to race in front of our crowd. So I think it's gonna be a really crazy weekend but so awesome. I think it's more excited nerves.
Kristen: Yeah, I agree with that. I think it's more excited nerves, but once it's actually starting and happening and right there, people are gonna be like, "Wow, this is actually just really cool." Similar races to what they usually have but maybe a little bit more comfort and support because their families are around. So yeah, it'll be cool. Some nerves are always good.
Lauren: Speaking of World Cup races, what were some highlights for you traveling with the US Ski Team during last year's World Cup circuit and at the World Championships in Planica, Slovenia?
Kristen: What's cool about the World Championships is that you have a race like every single day for two weeks, which is really fun, but it also ends up feeling very frequently like Groundhog Day. It's like the same, the same process and the same thing over and over again. But the cool thing is that at the end of the day, it's a different experience because the athletes have different feelings about their races. Sometimes it's really good and sometimes it's that disappointment. So the second half of the day is always a little bit different.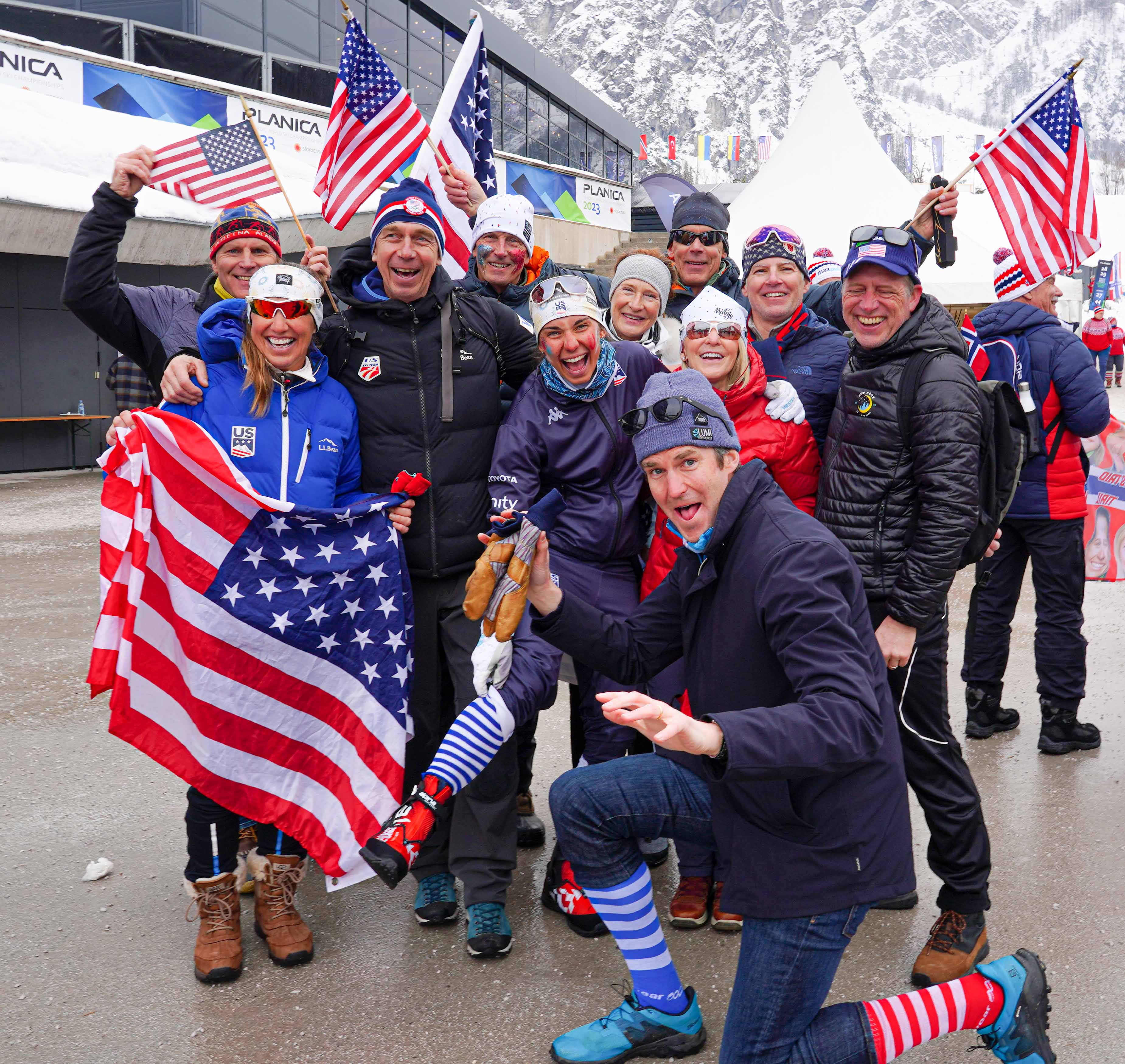 There were three races in particular that felt pretty special:
The team sprint bronze: That was an incredibly exciting day. Watching Jessies and Julia for the entire race, just dig and grind and try and separate from the group like that. That day went so perfectly, and they did exactly what they were supposed to do. I think that day was pretty special for everybody, and I selfishly am also very biased towards that day because I get to work with Julia so much. That was just like a very, very proud moment. The medal ceremony is something that I'll remember for a really long time, just being able to stand there and see the two of them up there together. Two teammates that work together so often, who come together and have that result, that was really special.
Rosie's 30km Classic: The other day was Rosie in the 30 km Classic when she was fourth. The way that she skied that day was so gutsy and impressive. You could see how much she was digging. I got chills watching her ski and so many people could say that a fourth place is really disappointing, but it's not at all. That was an incredible race. I have a lot of bits and pieces of that burned into my memory because it felt pretty emotional watching it. She had some unfortunate things happen in the Skiathlon earlier in the week and she was out there, putting her head down and skiing the best that she could have. Yeah, that day was really special.
Jessie's 10km Skate:That 10k Skate… it was so evident watching it. You knew she was gonna win that day. And when we were cheering for her, we weren't telling her that. We were giving her some pretty close splits because I think both Ebba and Frida were kind of breathing down her neck, but you could just feel it in your bones, the energy that she had and the way that she was moving. You're like yeah, she's got this. This is her bread and butter right here. I felt a little bit like we already knew that was gonna happen.
What was cool about that day and what a lot of people don't know is in the preparation for that, it was actually like the chillest day of the entire season of racing. Our entire team was so dialed that we ended up having an extra 45 minutes as an entire staff. We were sitting in the wax truck trying to find and make up a new instrument based off of the equipment that we had in there. We were all drumming and strumming using all of these different tools and sitting there making music with random scrapers and banging on the wall. We were just sitting in there having a really good time as a staff, completely calm, not stressed, trying to figure out which one of these instruments we were all going to bring out on the course. To have that result at the end of the day, we were just like, wow, cool. Like, we just had this dialed and it was so special for the whole team. Jessie absolutely deserved it. And we all definitely soaked it up with her.
Tears were flowing on the team sprint day, after Rosie's race and they were definitely flowing when Jessie got that gold, so wow, a very special World Championships, yeah.
Lauren: Thank you, Kristen!! Good luck with the intervals today and the season ahead.
Kristen: Thank you! I have to say, it was very special for us as a team to have the Lumi guests over there at World Championships and Holmenkollen because it brought over more fans and supporters of our team. To have that alongside the course while all these athletes are racing, it made it so special. We come back and we're like, wow, there were a lot of people out there cheering for us. It almost feels like you're a little bit closer to home when you have all those people around. These trips that you're doing are making a difference for us as a team and the experiences that we have as well.
–
Lumi Experiences guests on winter 2023 trips to the World Championships in Planica, Slovenia and the Holmenkollen Ski Festival in Oslo, Norway got to meet Kristen, tour the US Ski Team trailer, and meet some of the athletes and coaches.
This year, we'll be back in Norway at the Holmenkollen World Cup (waitlist only) with even more guests, and in Minneapolis (4 spots left!) we'll have another big group of super fans this February.
In 2025, we already have lodging secured for a Lumi trip to the World Championships in Trondheim, Norway too — it's never too early to reach out and save your spot!
See you on the trail,Garrott Kuzzygarrott@lumiexperiences.com